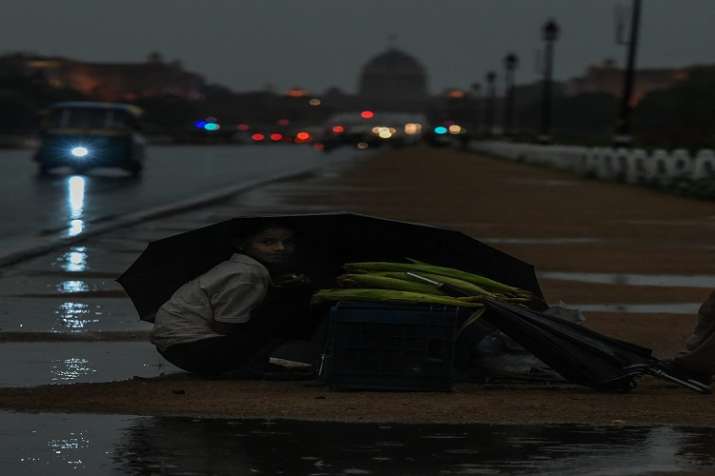 Black clouds covered the Delhi skies, plunging the city and its suburbs into darkness around 5.30 p.m. - almost two hours before the light usually fades - as moderate to heavy rains hit the capital on Saturday bringing some respite from weeks of sweltering heat. According to an official at the India Meteorological Department (IMD), rain, thundershowers along with strong winds were expected on Sunday.
Similar scenes were witnessed in Noida, Gurugram and other adjoining regions. Rains accompanied by heavy winds lashed parts of Noida. Areas of Faridabad too experienced power-blackout due to rains accompanied by dust storms.
Severe dust storm and strong winds also brought in some inconvenience as 27 incoming flights were diverted from the Indira Gandhi International (IGI) Airport. An airport official said the diversions took place between 5 p.m. and 6 p.m. Normalcy was restored after that.
No damage to property or human life due to strong winds and dust storm was reported immediately from anywhere in Delhi or its suburbs.
The sudden change in weather conditions also caused traffic snarls at many places on roads crowded with weekenders.
Rains dropped the temperature to 34 degrees Celsius, six degrees less than the maximum recorded on Friday, according to private weather forecaster Skymet.
Friday's maximum temperature settled at 40.5 degrees, the season's average, while the minimum was recorded at 32 degrees, four notches above the season's average. The humidity was recorded at 73 per cent at 8.30 a.m.
Dust storm affects Delhi metro services on Blue, Red Line
Services on the Red Line and Blue Line of the Delhi Metro were affected briefly on Saturday due to some snags on a few stretches after the dust storm, with winds gusting up to 70kmph, hit the national capital in the evening.
"Due to sudden dust storm and rain around 5pm, there were a few cases of track circuit signalling drop reported on Line 1 (Red Line) and Line 3 (Blue Line) and external object striking overhead electrification near Janakpuri East," a senior DMRC official said.
"This had no major impact on overall services, except minor regulation of trains on affected stretches. Trains on all lines are running normal otherwise," he said.
Red Line connects Dilshad Garden in east Delhi and Rithala in the western part of the city. Blue Line spans from Dwarka Sector 21 to Noida City Centre. Both are two of the longests and busiest routes on the metro network.
The dust storm accompanied with light rain pushed the temperature in Delhi down by a few notches on what was a sultry day.
Earlier, the Indian Meteorological  Department on Saturday had warned that a dust-storm accompanied with light rain and squall with wind speed up to 70 to 80 kmph would occur over Delhi and NCR. 
Private weather agency, Skymet had also issued a warning saying that dust storm accompanied by thundershower and strong gusty winds would occur over Faridabad, Delhi, Noida, Ghaziabad, Hapur and Meerut districts of Delhi and NCR.