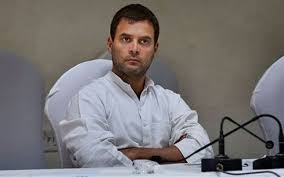 The BJP today termed Rahul Gandhi's allegation of corruption against the Modi government as a sign of his desperation to gain power at any cost and accused him of repeating "lies" which have been rebutted with "sold proof".
Hitting back at the Congress president after he attacked the government at a rally in Rajasthan, BJP spokesperson Anil Baluni said Rahul Gandhi's politics is "all about lying on every issue" and added that people have rejected him in many polls and will do so again in the coming elections.
"Rahul Gandhi is desperate to get in power at any cost. His philosophy of politics is all about lying on every issue. The allegations which he has been raking up repeatedly, have often been answered with solid proof. But he does not want to understand it, or may be he is incapable of understanding it," Baluni said.
The BJP media head alleged that Rahul Gandhi has always practised the politics of throwing mud at the government and lowered the political discourse.  
"People have repeatedly rejected him in elections and will do so again in the coming polls," he said.