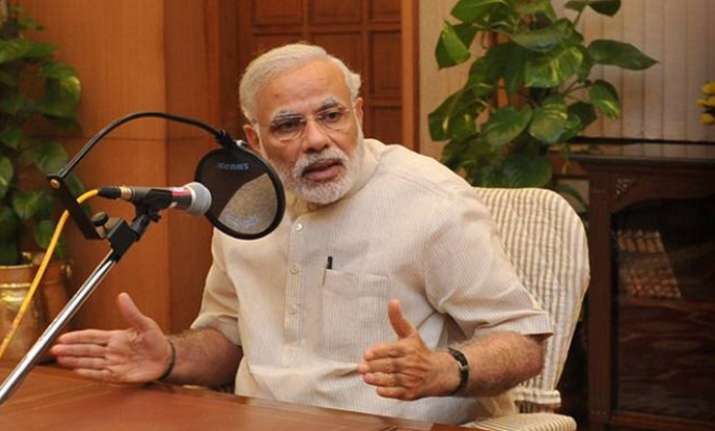 Prime Minister Narendra Modi is addressing the nation in the year's final edition of his monthly radio programme Mann Ki Baat. 
This will be the 39th edition of the Mann Ki Baat programme, which will be broadcast on All India Radio (AIR), Doordarshan and also on the Narendra Modi mobile application.  
The programme will also be streamed on the YouTube channels od the Prime Minister's Office, Ministry of Information and Broadcasting and DD News. One can also give a missed call at 1922 and hear it on their mobiles.
Here are the highlights:
11:27 am: It had come to our notice that if a Muslim woman wants to go on Haj ,she must have a 'Mehram' or a male guardian, otherwise she cannot travel, it was discriminatory, we have changed this rule and this year arnd 1300 women applied to go without a male guardian: PM Modi
11:26 am: India looks forward to welcoming ASEAN leaders for Republic Day 2018 celebrations. This is the first time so many leaders will grace the celebrations as the Chief Guests
11:25 am: 
A step that will benefit Muslim women. #MannKiBaat pic.twitter.com/tkjfILvB7o

— PMO India (@PMOIndia) December 31, 2017
11:22 am: A cleanliness survey will be conducted from 4th of January to 10th of March, 2018 to evaluate achievements in cleanliness level in our urban areas: PM Modi
11:21 am: 
Towards a Swachh Bharat. #MannKiBaat pic.twitter.com/rYGmIwxjyX

— PMO India (@PMOIndia) December 31, 2017
11:20 am: Swachh Survekshan begins in January. We will once again have a look at the strides we are making in cleanliness and areas in which we can improve: PM Modi
11:18 am: Just last week, I had a chance of meeting some daughters of Jammu & Kashmir. I was amazed at spirit that they had, the enthusiasm that was there in their hearts and dreams they nurtured: PM Modi
11:17 am: PM Modi appreciates the Punyam Poonkavanam initiative at the Sabarimala Temple in Kerala.
11:16 am: While talking about positivity, I want to talk about Anjum Bashir Khan Khattak, who excelled in the KAS exam. He overcame adversities and distinguished himself: PM
11:15 am: Let us enter 2018 with a spirit of positivity: PM Modi
11:14 am: Just now, while talking to you I got an idea whether we could organize a mock parliament in every district of India? I propose it should be around August 15: PM Modi
11:13 am: During Mann Ki Baat last month, I had spoken about #PositiveIndia. I am happy that so many people shared their Positive India moments through social media: PM Modi
11:12 am: New India will be free from poison of casteism, communalism, terrorism and corruption; free from dirt & poverty
11:11 am: We can have mock Parliaments in our districts, where we discuss how to make development a mass movement and transform India. The New India Youth must take a lead in this. 
11:10 am: People born in 21st century will gradually begin to become eligible voters from 1st of January, 2018. Indian Democracy welcomes these new voters: PM Modi
11:09 am: 
This year was 350th 'Prakash Parv' of Guru Gobind Singh ji. Illustrious life of Gobind Singh ji, full of instances of courage & sacrifice is a source of inspiration to all of us: PM Modi #MannKiBaat pic.twitter.com/dTcTjoOIBd

— ANI (@ANI) December 31, 2017
11:08 am: The New India Youth will transform our nation: PM Modi
11:07 am: A vote is the biggest power in a democracy. It can transform our nation.
11:06 am: Gurudev Ramkrishna Paramhans used to cite, 'serve living beings as if worshipping the almighty: PM Modi
11:02 am: On Christmas we remembered the great teachings of Jesus Christ, he stressed most on serving the society: PM Modi
11:01 am: In the coming year, we will share new experiences. I wish all of you  a very happy new year: PM Modi  
The Odisha unit of the BJP has made arrangements in all the 270 booths in bypoll-bound Bijepur Assembly segment to bring together people for listening to the Mann Ki Baat. 
Senior leaders, including two Union Ministers – Jual Oram and Dharmendra Pradhan — will be present in Bijepur and supervise that people hear the Prime Minister's programme.
PM Modi's radio programme has emerged as the most trending hashtag on Twitter in 2017 in the news and governance category, the micro-blogging platform said on Thursday.
The Prime Minister will deliver the inaugural address for the 85th Sivagiri Pilgrimage Celebrations, at Sivagiri Mutt, Varkala, Kerala, via video conference on December 31.
He will also address the curtain-raiser ceremony of the commemoration of professor Satyendra Nath Bose's 125th birth anniversary at Kolkata via video conference on Monday, January 1.