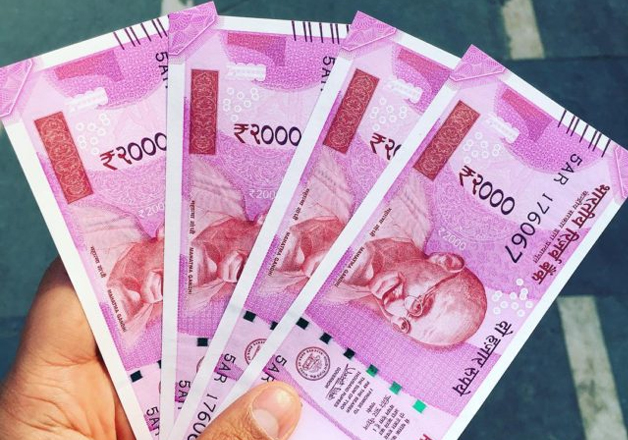 Pakistan-based counterfeiters have managed to print fake Rs 2,000 notes for circulation in India barely three months after the government's shock decision to demonetise Rs 500 and Rs 1,000 notes and introduce new currency that it claimed was impossible to replicate. 
According to a report in The Indian Express, the National Investigation Agency (NIA) and the BSF had last week seized at least 40 fake Rs 2,000 notes which were pumped through the open Indo-Bangladesh border.
The report said that all notes, which were seized on February 8 from Azizur Rahman (26) in Murshidabad of West Bengal, were printed in Pakistan and the country's spy agency Inter-Services Intelligence (ISI) had played a key role in copying the features. Rahman hails from Malda district of the state.
During interrogation, Rahman told the officials that for each fake note of Rs 2,000, smugglers had to pay Rs 400-600 in genuine currency.
Citing sources, the daily said that fake notes were printed in such a manner that at least 11 of the 17 security features were 'successfully' copied.
Transparent area, Ashoka Pillar Emblem, watermark, guarantee clause with Governor Urjit Patel's signature, letters of Rs 2000 on the left and the Devanagari font for the denomination number are among other features that were replicated. Design of Chandrayaan, Swachh Bharat logo and the year of printing had been copied on the reverse side.
Although the quality of the fake notes supplied is 'not good', but it is better than the earlier fake notes seized by the NIA, the report said.
Speaking to reporters in New Delhi, MoS for Home Affairs termed the matter as serious and promised to take visible actions check the menace. 
"If there is fake currency or hoarding of assets, we are serious about it," Kiren Rijiju said.
"The amount of counterfeit notes that has been recovered by security agencies is a matter of concern. The security features have been expertly replicated, half of the security features of the new Rs 2,000 notes is there in the fake notes. We are in talks with RBI for a training program for our soldiers," a senior BSF official said.
This was, however, not the first attempt by Pakistan to pump fake new notes into the Indian economy after the November 8 decision. 
The first such incident was reported in December last month when samples of fake notes were sent to smugglers in Malda for final approval. The first seizures of such notes were made on January 22 and on February 4. The NIA had even arrested two persons for smuggling fake notes.