Follow us on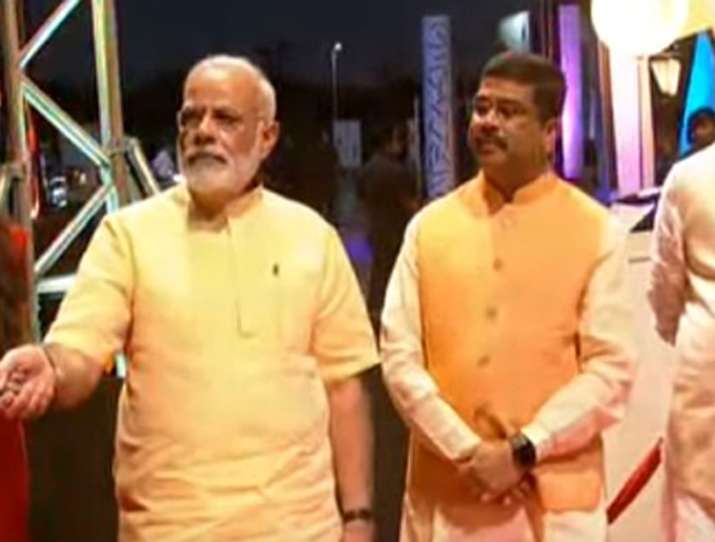 Prime Minister Narendra Modi today announced the launch of Saubhagya Yojana, an important scheme for the welfare of poor people.
Finance Minister Arun Jaitley, while addressing a press conference on the second day of BJP's national executive meet, said: "Today at 6:30 pm, PM Modi will make an announcement of an important scheme for the poor".
LIVE Updates:
08:09 pm: Hope the Saubhagya Yojana will be able to bring the kind of change in the lives of the poor, especially women 
08:07 pm: Several decisions have been taken by the government, including better relations with oil-producing countries. to ensure India's future prospects. India-Russia oil bridge a step in this direction  
08:06 pm: In last three years, several consumer fireindly initiatives have been taken in the oil and gas sector. Many policy decisions have also been taken 
08:05 pm: Accountability and responsibility basic tenets of this government 
08:04 pm: 41 crore LED bulbs distributed by private sector. Over 33,700 street lights are in place. 
08: 03 pm: Over 26 crore LED bulbs have been distributed, leading to Rs 13,700 crore worth savings by households. 
8:02 pm: In Feb 2014, before I came to power, LED bulbs cost Rs 310. Today, as of Sept 2017, it costs Rs 40.
08:01 pm: NASA's image comparing images taken in 2012 and 2016 affirms this government's impetus to providing power
08:00 pm: Policies and decisions by the Centre in the power sector has led to increase in the ease of doing business. India stands at 22nd position against 99 in ease of doing business in the power sector
07:59 pm: Within one year of UDAY launch, losses at discoms went down by 22 per cent
07:58 pm: UDAY scheme was aimed at better operational and financial management in distribution companies. This has led to improving health of power discoms
07:55 pm: We are fast moving towards One Nation, One Grid, One Price
07:53 pm: While ensuring energy security for India, we had pledged the contribution of clean energy. In the last three years, renewable capacity has been doubled, solar energy has gone up five times 
07:49 pm: India has moved from a nation of power shortage to power surplus. This has been possible due to a combination of measures on production, transmission, distribution and maintenance
07:48 pm: New India will not only have villages with power but rural households with power connections
07:47 pm: Less than 3,000 villages are left to be electrified. I had announced from the Red Fort that we will electrify 18,000 villages in 1,000 days and I am proud that the officials have achieved this  
07:46 pm: The measure of the success of a government scheme is by the extent to which it impacts the lives of the poor 
07:45 pm: The scheme will cost the government Rs 16,000 crore and we will ensure that this burden does not fall on the poor
07:43 pm: No poor household will be charged in any manner for a power connection. The government will go to their doorstep and provide power connection
07:42 pm: It is important for people who have power connections to understand the lives of those who live without electricity 
07:40 pm: Its been over 125 years since Thomas Edison invented the light bulb. He said we will make electricity so cheap that only the rich will light candles. Still, we have 4 crore households that have not seen electricity connections, forget bulbs
07:39 pm: 70 years since indpendence, 4 crore households are still without electricity connections in the country
07:36 pm: From Jan Dhan Yojana to Swachh Bharat to Ujala to UDAN, our focus on welfare of poor
07:34 pm: Happy to inaugurate Deendayal Urja Bhawan, which runs on efficient powrr management and absorbs low quantity of power  
07:31 pm: Prime Minister Narendra Modi begins speech
07:30 pm: Dharmendra Pradhan concludes address, Prime Minister Narendra Modi takes stage
07:25 pm: In line with the PM's call for decreasing import dependency, ONGC has seen 10 per cent increase in oil production, from 59 mmcd to 66 mmcd in the past three years
07:23 pm: We have saved around Rs 3 lakh crore with the introduction of Direct Benefit Transfer
07:20 pm: Within 17 months, we have provided 3 crore LPG connections under Ujjwala Yojana much ahead of the target set before us
07:18 pm: Union Petroleum & Natural Gas minister Dharmendra Pradhan addresses gathering
07:10 pm: Call upon foreign investors to invest in India's energy market, set to quadraple in the coming years: RK Singh
07:05 pm: Most of the systems required for this scheme are already in place, whatever is left will be covered under this scheme: RK Singh 
07:02 pm: The government will set up camps to provide connections, will also use smart prepaid meters which can be charged through mobile phones: RK Singh
07:00 pm: MoS Power RK Singh says days of load shedding will soon be gone
06:55 pm: RK Singh addresses gathering, says PM has set a strict deadline od December 31, 2017, for completion of the scheme. Minister says the deadline will be met
06:50 pm: PM Modi launches Pradhan Mantri Sahaj Bijli har Ghar Yojna-Saubhagya scheme
06:35 pm: PM inaugurates ONGC's exhibition, to shortly address the gathering at the event to inaugurate the Deendayal Urja Bhavan in the national capital
06:32 pm: Total outlay for Saubhagya Yojana at Rs 16,320 crore, says government
06:30 pm: Prime Minister Narendra Modi arrives at the venue 
The Saubhagya Yojana envisages power for all, including some free connections for rural households. The scheme is expected to rpovide connections for 5 LED bulbs and one fan for five years. Additionally, the maintenance of therse connections will be free for a period of five years.
Addressing the media earlier, Jaitley also said that the main point of PM Modi's speech at BJP's national executive meet was that we all should take BJP beyond elections and make it instrument of mass participation.
The BJP National Executive meeting began with party chief Amit Shah's address to delegates in New Delhi on Monday. The party meeting is being attended by 2,000 leaders, including 13 Chief Ministers and the party's MPs, and MLAs.
The two-day National Executive meeting was inaugurated by Shah on Sunday.