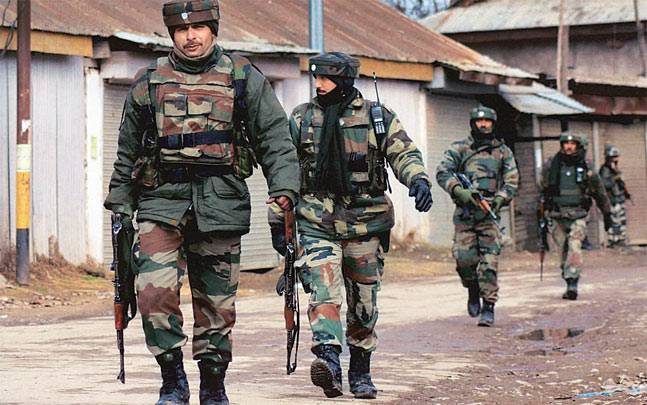 Lieutenant General Satish Dua, Srinagar-based Corps Commander,  today said that militants in Kashmir are firing shots on Army personnel from behind the crowd as part of a well-thought off strategy.
He added that the army men have been given clear orders to exercise restraint till the last moment.
Responding to a question on the ongoing Kashmir unrest, Lt Gen Dua said that initially the protests were spontaneous. However, according to him, the protests have become engineered, of late.
He also pointed out that it should not be forgotten that many army men have also been injured in these protests with some of them receiving several stitches.
Responding to the demand for use of non-lethal weapons for controlling protesting crowds, Lt Gen Dua pointed out that the army doesn't have non-lethal weapons to respond with.
Lt Gen Dua urged the Kashmiri youth to take the Chief Minister Mehbooba Mufti's words seriously and give peace a chance.
More than  60 people have lost their lives in the unrest that erupted in Kashmir after the Hizbul terrorist Burhan Wani was killed by Indian security forces.
Meanwhile, Homage were today paid to two army jawans, who were killed in a militant ambush yesterday in Baramulla, with Srinagar-based Corps Commander Lt Gen Satish Dua joining the other officers and men at a solemn ceremony here.
A separate wreath-laying ceremony was held for Jammu and Kashmir Police constable Pritpal Singh who was also killed along with the two army jawans in the same ambush.
Bodies of soldiers 29-year-old N K Shakti and 32-year-old Joy Jit Ghosh, wrapped in tricolour, were brought to Badami Bagh cantonment here where the army paid befitting tributes to them in a solemn ceremony, an army spokesman said.
The two soldiers, along with a policeman, were killed when militants attacked their convoy at Khojabagh in Baramulla district in the wee hours of yesterday. Three soldiers and a policeman were also injured in the attack and are undergoing treatment.