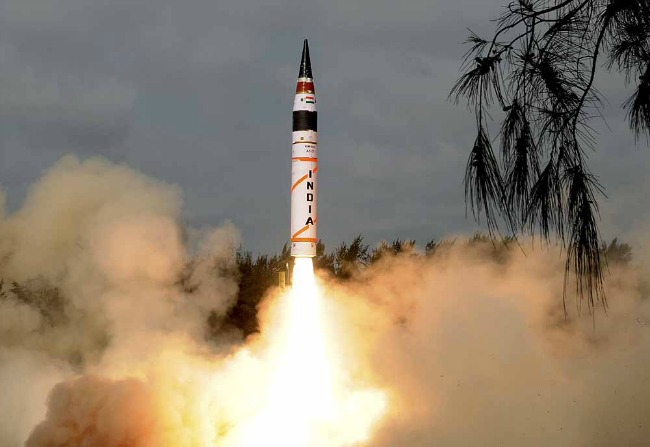 India is all set to test its Agni-V intercontinental ballistic missile (ICBM), capable of striking even the northernmost parts of China, in its final operational configuration from Odisha.
Notedly,this will be fourth and the final test of nuclear-capable Agni-V. It will be tested for its full range, before Strategic Forces Command begins its user trials.
The country's most formidable nuclear missile till now since it brings the whole of China and much more within its strike envelope, the three-stage Agni-V was earlier tested in "an open configuration" in April 2012 and September 2013.
The third test on Jan 30 2015 was done from a hermetically-sealed canister mounted on a Tatra launcher truck in "a deliverable configuration". 
Earlier, the fourth Test was put on hold due to a technical snag with its battery.
"There were some minor technical snags in Agni-V, which required tweaking of its internal battery and electronic configurations after its last test in January 2015," Times of India quotes its source as saying.
Reports also say that India wanted to exercise some strategic restraint while making a bid to join the 48-country Nuclear Suppliers Group, which China thwarted earlier this year. India, however, did manage to join the 34-nation Missile Technology Control Regime.
Besides, it ill give the armed forces the requisite operational flexibility to swiftly transport and fire the ballistic missile from anywhere they want.
The Agni-V is the most advanced version of the indigenously built Agni, or Fire, series, part of the Integrated Guided Missile Development Programme (IGMDP) that started in the 1960s and was once overseen by APJ Abdul Kalam, who later rose to become the Indian president.
Agni's earlier versions, which have been inducted in the armed forces, can reach anywhere in Pakistan and parts of western China.
Agni-V is a three-stage missile designed to carry an over one-tonne warhead. Its 5,000 km-range gives it the farthest reach among all Indian missiles.
India joined the US, Russia, the UK, France and China, which boast ICBM capabilities, when it first tested the Agni-V in 2012.