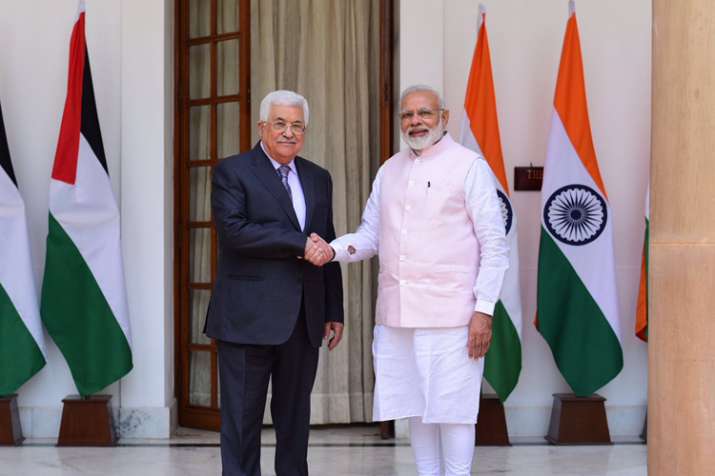 India on Tuesday reaffirmed its support to "Palestinian cause" with Prime Minister Narendra Modi asserting that New Delhi hopes "to see a sovereign, independent, united and viable Palestine, co-existing peacefully with Israel."
Modi, who is soon to visit Israel, first by any Indian Prime Minister, conveyed to Palestine President Mahmoud Abbas India's "unwavering support" to the Palestinian cause and reaffirmed its support for a political solution to the issue. 
"The relationship between India and Palestine is built on the foundation of long-standing solidarity and friendship since the days of our own freedom struggle. India has been unwavering in its support of the Palestinian cause. And we hope to see the realization of a sovereign, independent, united and viable Palestine, co-existing peacefully with Israel," Modi said after holding extensive talks with Abbas. 
PM @narendramodi begins press statement by welcoming President Mahmoud Abbas, an old friend of India pic.twitter.com/HPjg7EBeV9

— Raveesh Kumar (@MEAIndia) May 16, 2017
"I have reaffirmed our position on this to President Abbas during our conversation today," he added. 
"President Abbas and I have just concluded useful and detailed discussions that will add further strength to our partnership. We had extensive exchange of views on the situation in West Asia and the Middle East Peace Process," Modi said while jointly addressing the media with Abbas following the delegation-level talks here. 
"We agreed that the challenges in West Asia must be addressed through sustained political dialogue and peaceful means," he said. 
"India hopes for early resumption of talks between Palestinian and Israeli sides to move towards finding a comprehensive resolution," the Prime Minister said. 
"And, we hope to see the realisation of a sovereign, independent, united and viable Palestine, co-existing peacefully with Israel," he said, ahead of his visit to Israel scheduled for July this year. 
He also called for enhancing cultural exchanges between the two sides and sought the participation of the Palestinian people in the International Yoga Day to be observed next month.
On his part, Abbas expressed his appreciation for India's continued support and solidarity for the Palestinian cause on international forums.
He said he updated Modi on his meeting with US President Donald Trump regarding the Middle East peace process and his talks with his German and Russian counterparts Frank-Walter Steinmeier and Vladimir Putin, respectively, on the issue.
Abbas also condemned terrorism in all its forms and manifestations and voiced support for all regional and international efforts to fight this menace.
India, Palestine ink five MoUs
India and Palestine signed five agreements that include cooperation in the areas of agriculture, IT and electronics, health and youth affairs and sports. 
The Prime Minister said the five agreements signed following Tuesday's talks "are reaffirmation of our intent to strengthen cooperation in this direction".
Deepening Collaboration. #IndiaPalestine sign five MoUs to strengthen cooperation in various spheres pic.twitter.com/Ztwlzy86kQ

— Raveesh Kumar (@MEAIndia) May 16, 2017
"At the bilateral level, India is committed to be a useful development partner of Palestine. President Abbas and I agreed that both sides, through practical cooperation, will work together to build Palestine's economy and contribute to improving the lives of its people. We will continue to support the development and capacity-building efforts of Palestine," he said. 
Modi also referred to a flagship Techno-park project India was undertaking in Ramallah and said particular emphasis was being laid on the areas of information technology, youth and skills development.
The MoUs that were signed extend to Visa Exemption on Diplomatic and Official Passports, Cooperation in Youth Affairs and Sports, Agricultural Cooperation, Cooperation in Health Sector, and Information-Technology and Electronics.
Deepening historically close & friendly ties. Mr. Mahmoud Abbas, President of Palestine receives ceremonial honours at @RashtrapatiBhvn pic.twitter.com/UU112V4gji

— Raveesh Kumar (@MEAIndia) May 16, 2017
Earlier in the day, Abbas was accorded a ceremonial welcome at Rashtrapati Bhavan here following which he paid tribute to Mahatma Gandhi at Rajghat.
External Affairs Minister Sushma Swaraj called on the visiting dignitary and discussed issues of bilateral interest.
Abbas arrived here on Sunday on a four-day visit to India. This is his fifth visit to India and the third state visit after his visits in 2008 and 2012.
He is being accompanied by a delegation comprising Palestinian Deputy Prime Minister Ziad Abu Amr, Foreign Minister Riad Malki, Diplomatic Advisor Majdi Khaldi, Presidency Spokesperson Nabil Aburdeineh and Palestine's Chief Judge Mahmoud Habbash.