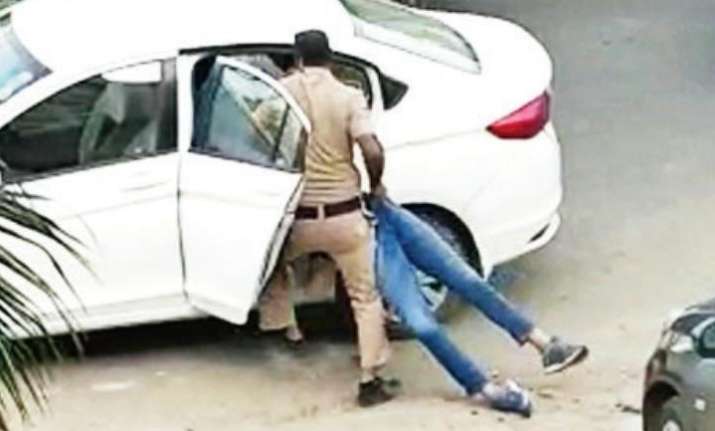 The wife of a judge who was allegedly shot at by his personal security guard in a crowded market area in sector-49 in Gurugram succumbed to injuries while their 18-year-old son was declared "brain dead", officials said on Sunday.
On Saturday, Additional Sessions Judge Krishan Kant's wife Ritu and son Dhruv (18) were allegedly shot at by his personal security guard, Mahipal, leaving them critically injured, police said.
Police said the incident occurred around 3.30 pm when both had gone for shopping in the Arcadia market. They were accompanied by the judge's guard.
DCP-East Sulochna Gajraj said the two were rushed to Medanta Hospital in the city where they were in "critical" condition.
"Some locals informed the police about gunshots being fired outside the Arcadia market. When a police team reached the spot, they found Ritu and Dhruv lying in a pool of blood," Gajraj said.
She said Ritu suffered bullet injury in her chest while Dhruv in his head. 
Gajraj said the police team could not promptly find Mahipal there. He was later arrested from Faridabad.
Gurgaon police PRO Subhash Bokan said that Mahipal was being interrogated to establish the reason why he opened fire. 
After initial interrogation, police officers said Mahipal was a Haryana police head constable and was serving as a personal security guard of the judge for the past two years. 
He had been demanding leave to go home for the past few days, but this was denied. This might have led to him suffering from depression, cops said.
"The judge also used to scold him often," one of the interrogating officers said.
On Saturday also, the judge's wife scolded him inside the car when they were going to the market, the officer said. 
"We will seek his (accused gunman) remand and question him further," said Gajraj. 
In video footage of the incident recorded by a witness, Mahipal is seen with the gun in his hand. 
Meanwhile, a SIT was formed to investigate the matter.
WATCH VIDEO: Guard shoots judge's son, wife at a market in Gurugram​​
(With PTI inputs)