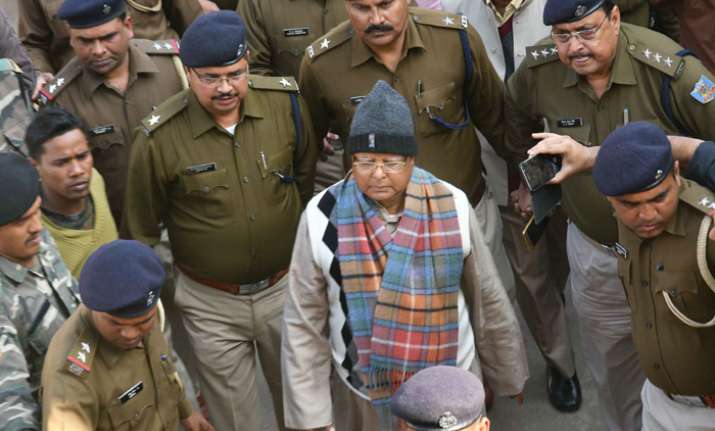 A special CBI court on Saturday is expected to announce the quantum of punishment to jailed Rashtriya Janata Dal (RJD) leader after his conviction in fodder scam case on December 23. The judge will pronounce the judgment at 2 pm.
The 69-year-old RJD leader, who has been suffering from diabetes and had undergone heart surgery, on Friday in his written plea sought leniency from the CBI court citing poor health and old age reasons. The RJD supremo also said that he is suffering from a bladder infection. "I have no role in this scam directly; consider minimum punishment keeping in view my age and health grounds," Lalu said in his plea.
ALSO READ | 'Play harmonia or tabla to beat the cold': Judge to jailed Lalu Yadav ahead of his sentencing in fodder scam
During the quantum hearing, the RJD chief was asked to appear via video conferencing. Prasad appeared before the court from Birsa Munda central jail where he is lodged.
Besides Lalu, the court on Friday heard arguments on the punishment of RJD leader RK Rana, former IAS officers Phoolchand Singh, Mahesh Prasad, former government official Subir Bhattacharya, suppliers/transporters Tripurari Mohan Prasad, Sushil Kumar Sinha, Sunil Kumar Sinha, Raja Ram Joshi, Sanjay Agarwal and Sunil Gandhi.
The court had heard pre-sentencing arguments in alphabetical order of former IAS officer Beck Julius, Gopinath Das, RJD leader Jagdish Sharma, transporter/suppliers Jyoti Kumar Jha and Krishna Kumar Prasad.
The court hearing the case had pronounced the RJD supremo guilty of fraudulent withdrawal of Rs 89.27 lakh from the Deoghar treasury 21 years ago when he was the chief minister of the state. Six others, including Congress leader Jagannath Mishra, were acquitted in the case, while 15 others were convicted along with Lalu.
In 1996, the Patna High Court had ordered an inquiry into the fodder scam cases and a charge sheet in the Deogarh treasury case was filed against 38 people on October 27, 1997. Eleven of them died and three turned approvers while two other accused confessed and were convicted in 2006-07, a CBI official said. On September 30, 2013, Yadav, Jagannath Mishra and several others had been convicted in another case pertaining to illegal withdrawal of Rs 37.7 crore from Chaibasa Treasury in the early 1990s.
ALSO READ | Fodder scam verdict: After his conviction, Lalu Yadav accuses BJP of playing dirty, immoral political games
The former Bihar chief minister also faces three fodder scam cases for illegal withdrawal of Rs 3.97 crore from the Dumka Treasury, Rs 36 crore from the Chaibasa Treasury and Rs 184 crore from the Doranda treasury.