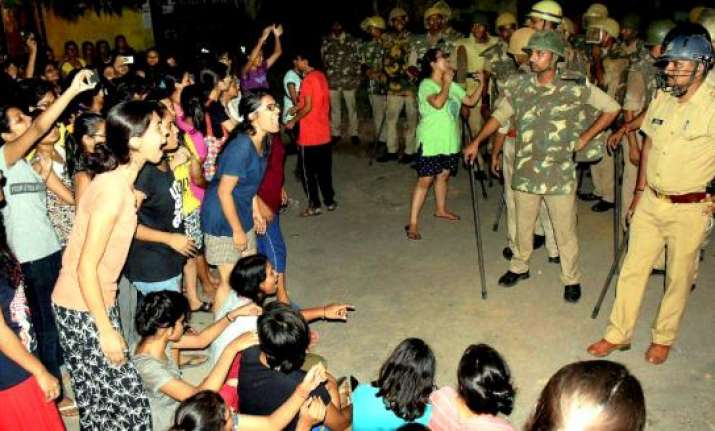 Trouble seems to be mounting for Banaras Hindu University Vice-Chancellor Girish Chandra Tripathi, after Varanasi Commissioner Nitin Gokarn on Tuesday submitted a report in connection with Saturday's lathicharge on protesting students and blamed the university administration for the violence.
In the report, Gokarn has said that the university did not deal with the victim's complaint in a sensitive manner and did not handle the situation on time, said a senior administrative official. 
Also, the National Human Rights Commission has sought an explanation from the V-C regarding the violence and arson that took place in the campus last Saturday. The rights panel has issued notices to the state chief secretary, director general of police and vice- chancellor of BHU. 
Vice chancellor Girish Chandra Tripathi, who was in New Delhi for the university's executive council meeting, said a judicial investigation was initiated under retired Allahabad high court judge VK Dikshit.
Meanwhile, in another development, BHU Chief Proctor Dr O N Singh submitted his resignation late Tuesday night on 'moral grounds'.
Reports suggest that the university authorities have accepted Singh's offer to step down, and a new chief proctor will be appointed today by V-C Tripathi, which could be a woman.
As of now, professor MK Singh of BHU Medical College has been given the additional charge as the chief proctor.
V-C pushes for appointment of teacher indicted for sexual harassment
Landing himself in another controversy, the V-C pushed several faculty appointments, including one of a teacher indicted for sexual harassment, in the meeting of the Executive Council (EC), says a report in The Indian Express. 
The move by Tripathi came a day before the government's freeze on recruitment kicks in given that he is retiring in two months.
 
According to HRD Ministry's order, all Central university heads are prohibited from making appointments in the last two months of their term. Tripathi retires as BHU V-C on November 27. As per the government directive, he is disallowed from making appointments starting Wednesday, that is September 27.
Yogi Adityanath orders judicial inquiry into police baton-charge
Earlier on Tuesday, the Uttar Pradesh government ordered a judicial inquiry into the violence on the BHU campus. A number of students, including women, and two journalists were injured in a lathicharge by the police in BHU where a protest on Saturday night against an alleged eve- teasing incident turned violent. 
While Varanasi Commissioner has blamed the university administration for its handling of the situation, V-C Tripathi has denied that the students were lathicharged in the campus.
He said on Monday that force was only used to drive away anti-social elements who were setting university properties on fire and were hurling stones and throwing petrol bombs. 
The BHU chief proctor's internal four-page report has also suggested that the assault on a girl that sparked the protests was an instance of "eve-teasing", something that was also corroborated by the V-C. 
According to a report in The Indian Express, Tripathi has also claimed that the incident of sexual harassment was "created by outsiders" with "vested interests" who had an eye on the Prime Minister's visit to Varanasi.
Following Chief Minister Yogi Adityanath seeking a report on the incident of baton-charge, three additional city magistrates of Varanasi and two police officials were removed on Monday. 
Hundreds of girls are out in protest demanding assurance from the administration about their safety inside the university premises and action against the alleged molesters and security guard who refused to help a student, who was molested on Thursday evening.
The protests have been going on for six days now, which also took a violent turn on Saturday night, when police resorted to lathicharge to disperse the crowd.
BHU students stage protest in Delhi
The BHU students on Tuesday staged an agitation in the national capital and termed the protest on the night of September 23 as an outburst after years of their sufferings going unheard. 
The students accused the police of abruptly indulging in baton charge without making any announcements.
An undergraduate student of BHU, Mineshi Mishra, who claims to have been beaten up by the police alleged that gender sensitisation was non-existent on the campus. 
Carrying bruises on her body, Mishra said that only outsiders felt bizarre to hear BHU vice chancellor's stereotyped statements, but insiders (students) were used to it.
"He had earlier made statements like - daughters are those who sacrifice their studies for that of their brothers," Mishra alleged, adding that the VC had looked down upon women studying late nights. 
"He had also starkly said he knew how and what BA students study and they did not need libraries," the undergraduate student said. 
Snubbing VC Girish Chandra Tripathi's theory of involvement of "outsiders" which caused the protest to escalate, she said, "The entire campus was on section 144 and lathicharge was done in the entire campus and none of the outsiders can get in."