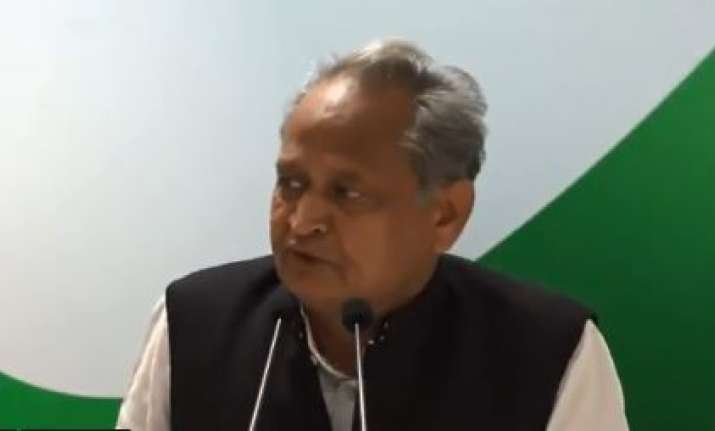 Veteran Congress party leader Ashok Gehlot was trending on Twitter for a comment he made at a recent AICC press conference.
"They are building a dam through which they'll generate electricity. Current will be generated out of the water and after that, the same water will go to the farms. When there will be no current in the water, will it be useful for irrigation," he can be heard saying in the video which has gone viral in social media.
(Yeh baandh bana raha hai, usme bijli jab banayega. Aur jab paani mein se bijli nikal jayegi, paani kheton mein jayega. Jab paani mein se bijli nikal jayegi uski taqat hi nikal jayegi toh kheton mein paani kaam kya aayega?)
Soon, netizens started retweeting and sharing the video clip on Twitter, mocking the Congress leader. Within some time, hashtag #ScientistGehlot started trending on Twitter too.
When Ashok Gehlot came across the clip, he tweeted the full video where the comment can be heard in its entirety. Gehlot said that the Jan Sangh used to disturb former PM Nehru by saying that "when the current will be taken out of the water, it will be useless for irrigation".
ये है अशोक गेहलोत जी का पूरा वीडियो जिसे भाजपा की ट्रोल आर्मी ने आधा काटकर देश को उल्लू समझने और उल्लू बनाने का घृणित कार्य किया है।@ashokgehlot51 pic.twitter.com/kpbJTji6rg

— MP Congress (@INCMP) June 6, 2018
He was talking about Jan Sangh's Mani Ram Bagri's comment (in the 1960s) when he said, "Bhakra Nangal mein paani mein se bijli nikali, ab gehoon kya paida hoga?" (Electricity has been taken out of Bhakra Nangal water, how wheat will be irrigated now?)
The above mentioned comment is also a dialogue from the famous Bollywood film Shool where actor Sayaji Shinde reiterates the same 'fact'.
WATCH VIDEO BELOW: