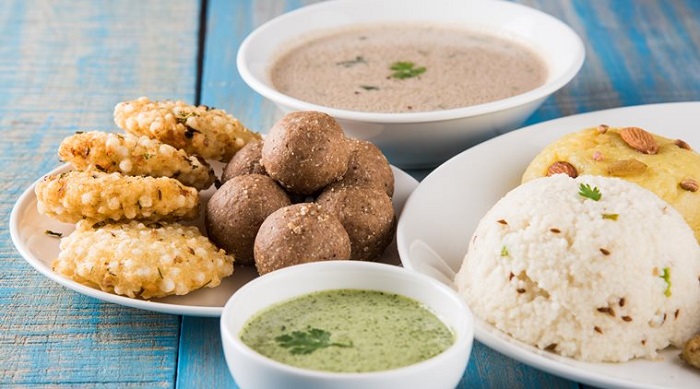 Some people find Navratri fasting as an excuse to binge on oily, heavy and fried unhealthy food due to limited awareness of options available. How many of you are guilty of binging on those oil-laden buckwheat flour puri during Navratri fasting? Ask yourself is the purpose of fasting getting fulfilled if you continue to munch on the unhealthy snacks and fried food. It is true that due to various religious sentiments, there is a variety of restrictions during Navratri. 
98fit, first of its kind Intuition driven Lifestyle & Wellbeing coach, has introduced a special diet for the health conscious fasting users for Navratri.
This unprecedented diet includes five course meals for each fasting day comprising of a variety of delicacies that the users can easily make, relish and detox their body.
This plan offers a range of options to choose for different users when fasting. The diet includes seasonal fruits to keep the body nourished, liquids for the body to be well hydrated, gluten free ingredients such as Singhare ka atta, Rajgiri ka atta, kuttu ka atta, saboodana which can be used to make rotis, pancakes, muffins, pooris, etc.
Healthy desserts, dairy products and nuts are also recommended in the form of kheer, milkshakes, fruit cream, fruit raita, as they are required by the body for protein and energy.
The web application also provides tips for the fasting users, to fast in a healthier and tastier manner. Hindi, being the most widely spoken language and Navratri being a festival widely celebrated, 98Fit decided to help larger audience by introducing bilingual nine day Navratri diet plan for the first time. This also is in line with their vision of making fitness affordable and accessible to the masses.
Founder of 98fit, Bhavishya Wadhawan, said, "From years I have noticed my entire family fasting during Navratri and complaining of lesser options for nine days and eventually leading to unhealthy options or starvation. Moreover, I have always noticed my parents and their friends communicating in hindi on WhatsApp, etc. All this led to the generation of nine day Healthy Navratri Diet plan, which is also in Hindi."
98fit will provide your with special diet plan on Navratri. Apart from that, you can get insights and advices on your regular diet and workout plans. 
(With ANI Inputs)