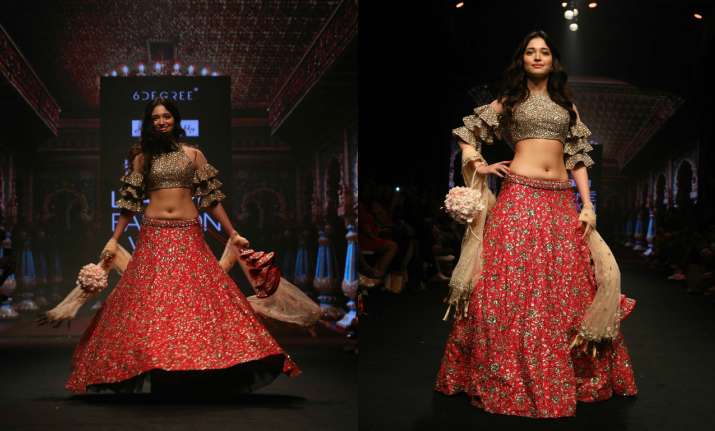 Actress Tamannaah Bhatia who was the showstopper for designer Ashwini Reddy at Lakme Fashion Week (LFW) summer-resort 2018 said that fashion helped her in discovering herself. "When I started working and started doing Hindi films, that was when I was really trying to figure out who I really am. That discovery gradually happened through fashion," Tamannaah said in an interview. Tamannaah wore a delicately embroidered, ruffled blouse teamed with a bright red skirt embellished with gold work and a champagne coloured dupatta at LFW.
"Fashion is a great medium to express who really you are as a person. It is not something I have woken up and known about. I think I can confidently say that now I don't feel I am working too hard for it," she added.
The actress, who has featured in films like Himmatwala, Baahubali: The Beginning, Baahubali 2: The Conclusion and Tutak Tutak Tutiya, is an established name in southern cinema. One of her much-anticipated projects currently is the remake of Kangana Ranaut's Queen.
Talking about paying heed to the fashion police, she said she used to to do that initially. "I think that helped me. I am thankful to the criticism because I wouldn't have got better if I hadn't got the criticism. However harsh they might sound sometimes, it did help me," said the actress, who is excited about her new projects.
"I am doing lot of south Indian films. I have just completed a Telugu film. It (my schedule) is jam-packed but I enjoy doing films. Being an actor, facing the camera, playing different characters... Because now is the time (for heroines) as different parts are written for women. "All the films I am doing are very female-centric, their subjects are female-centric. It's a great time to be doing such movies because the scope is there," said the actress.
(With IANS updates)
Keep watching our Facebook page for all updates