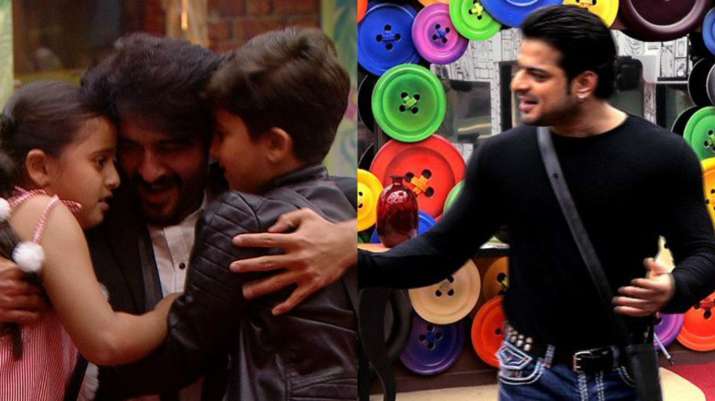 December 8 episode of Bigg Boss 11 was loaded with emotions and drama. As family members entered the house, the dynamics among contestants changed. Last night was all about Hina Khan's overacting on seeing her beau, Rocky Jaiswal. The duo hugged each other and sang a song of love. No, we are not joking. ''Maine Apna Dil Aap Par Haara Hai.. Aapka Dil Mujhpe Haar Ke Mera Jeet Amar Kar Do,'' Rocky narrates a romantic line for Hina. Rocky says friendship of Luv, Priyank and Hina are being talked about. He meets Shilpa Shinde and Arshi Khan, tells them he is loving them on the show. Rocky calls Hiten, an epitome of patience. Tonight, we will see entry of Hiten's wife, Gauri Pradhan in the house. 
10:05 PM: Salman gives a surprise to Hiten. He asks Puneesh to open the store room and then Hiten's kid come running in the house. Teary-eyed Hiten fill them in his arms. Contestants are excited to see kids and Hiten thanks Bigg Boss and Salman. Gauri once again enters the house. Hina comes to Gauri to clarify that she and Hiten are good friends. ''Kisi Ko Pasand Karna Buri Chiz To Nahi,'' Arshi asks Gauri to which she replies,''absolutely not''.
9:52 PM: Contestants then interact with guests and Salman. Karan is asked to get freeze and Hina is given a chance to respond. She answers Karan that perfection lies in imperfection. Salman tells that people think Hina is insecure.
.@KARISHMAK_TANNA has some advice for Akash Dadlani. Catch what she is saying only on #WeekendKaVaar. pic.twitter.com/jKDMdSdJGh

— COLORS (@ColorsTV) December 9, 2017
9:43 PM: Rohan Mehra enters the house, calls Hina a style icon and tells that she is trending everywhere. Rohan also praises Luv, Priyank and Hina's friendship. Rohan calls Hina, the biggest celebrity in the house. He suggests her not to take names of other celebrities as people are watching her outside. He also advices her to politely disagree with others . Karishma Tanna, contestant of Bigg Boss Season 8 also enters the house. ''I love you on the show'', Karishma tells Vikas and the praises Shilpa. Karishma tells Hina that she can relate Hina to herself. ''Practice what you preach,'' she tells Hina.
Shilpa Shinde gets emotional as she opens her heart out to Luv Tyagi. Keep watching #WeekendKaVaar to watch their conversation. pic.twitter.com/kBwBxkL5RV

— COLORS (@ColorsTV) December 9, 2017
9:36 PM:  Karan Patel enters the house and praises Vikas Gupta and Hiten Tejwani. He appreciates Shilpa Shinde and says that he is a big fan of hers and then moves on to Hina Khan. Karan accuses Hina of not owning her mistakes and lying often.You are looking beautiful and if possible play with same beauty,'' Karan tells Hina. He also tells Arshi to respect the person who gives her food, hinting at Shilpa. Arshi calls Karan, a tharki. Shilpa gets emotional and shares her feelings with Luv.
9:12 PM: Salman reveals that there is a surprise for Hiten. The host asks Puneesh whether he is enjoying without Bandgi or not. He also mocks about Akash getting evicted this week. He says that he loved Puneesh's bonding with his father. Salman also appreciates Shilpa's mother and calls her sweet. The star says that Vikas will offer her 5 times the amount of her fees, as soon she gets out. The superstar also trolls Priyank over Divya Agarwal and says ki ''band baja ke chali gayi''. Salman congratulates Arshi for getting captaincy in ''khairaat''. He then went on to lash Arshi for calling Shinde, 'behuda' and 'begairat'. Salman openly supports Shilpa and says that she hasn't seen Arshi's father in a 'weird' way. ''Everybody who saw the episode, thought that you behaved in an idiotic way and am saying this in decent words,'' Salman tells Arshi. When Vikas is asked about her choice of captaincy, he says that he couldn't trust Hina and Luv and that's why he chose Arshi. After Salman goes away, Vikas and Arshi start arguing and then Hina openly says that she is not friend with Arshi
9:00 PM: The show starts with Salman Khan paying a tribute to veteran actor, Shashi Kapoor, who passed away on December 4. Gauri hugs Hiten as tears rolled down her cheeks. ''You don't have to change for anybody. Play like you have played till now,'' Gauri advices Hiten . She thanks Vikas Gupta and calls Arshi, an entertaining personality. Gauri lashes out at Hina Khan and Akash Dadlani and wish them good luck. Gauri leaves the house, Hiten runs outside after contestants are ordered release and breaks down. Contestants come to console him while Hiten apologises for what Gauri said. Hina and Arshi talk about Gauri's behaviour and says she didn't even meet Luv and Priyank. Hina says she don't want to be judgemental but then went on to say that she is disappointed with Gauri.
Stay tuned to this place for Bigg Boss 11 updates