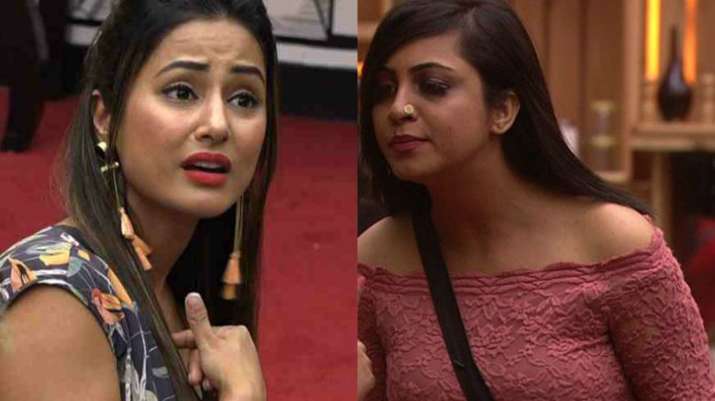 November 10 episode of the controversial reality show, Bigg Boss was as usual peppered with drama and war. The episode showed three contestants competing to win the captaincy task and some girly talk.
In the beginning of the show, Arshi taunts Luv Tyagi and Vikas Gupta also gets engaged in a verbal spat with Luv. Akash Dadlani and Shilpa Shinde discussing things in the kitchen while preparing dinner. Luv and Priyank go to meet Hina in jail. Hina is infuriated at Vikas for accussing her of planning a game while in kaal kothri. She says Vikas wants a dictatorship in the house. On the other hand, Vikas and Sapna Choudhary talk about Hina and claim that it was the actress who told Luv to misbehave with Arshi.
Hina and Benafsha have some girl talk at night. Hina says that they both are more than friends but Benafsha insists that they are just friends. Now comes the captaincy task in which competitor with most number of eggs will be declared the captain. The three contestants are Sabyasachi Satpathy, Bandgi Kalra and Akash and Sapna is the moderator. Sapna, Shilpa, Arshi and Vikas give their eggs to Sabyasachi. Meanwhile, Puneesh promises his friends that he will destroy all eggs of Sabya's. After the victory, Bandgi congratulates Sabya and Akash raps a song for him. 
Bigg Boss offers Sabyasachi a privilege to free one of the persons from kaal kothri. Without any doubt, he chooses Hiten. Bigg Boss also ends Hina and Benafsha's prisonment. On the other hand, Hina and Arshi again start fighting while having dinner. After getting taunted by Arshi, the actress loses her cool and yells at her.
Before the end of the episode, Akash-Arshi, Priyank-Benafsha, Puneesh-Bandgi participate in a challenge and Akash and Arshi win the task
Kapil Sharma will be part of tomorrow's episode. Stay tuned for all latest updates on Bigg Boss 11.