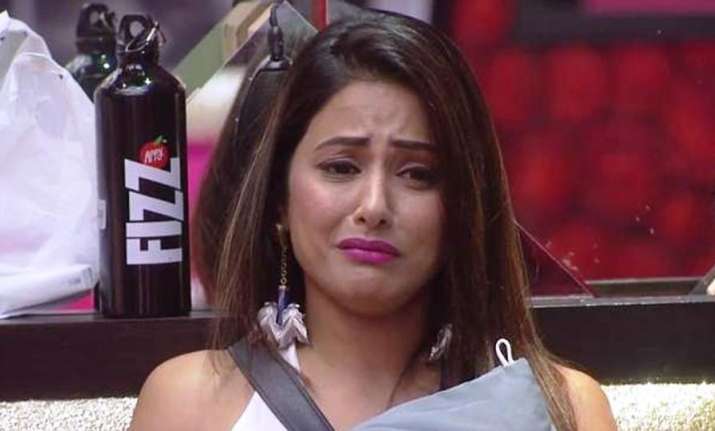 If you're a regular follower of Bigg Boss 11 then you must know the recent twist of plot in the house. Mastermind Vikas Gupta has been assigned with a secret task by none other than Bigg Boss himself. He's given a hidden transmitter through which he can listen to what Bigg Boss is saying. In this task, he was asked to make one contestant in the house cry. He turned to the contestant who cries a lot in the house and we don't even need to tell her name here.
Vikas Gupta uses the other way to make the contestant cry. Instead of hurting them, he asks them to fake their cry. He cunningly asks Luv and Hina if they can fake their tears. He makes it look like a little game they're playing for passing time. While Luv and Vikas tries hard to shed a tear, it was Hina Khan who burst into tears, er, correction; fake tears.
Secret task ke liye @lostboy54 ko hai ghar ke kisi ek sadasya ko rulana! Watch the drama unfold tonight at 10:30 PM. #BB11 #BBSneakPeek pic.twitter.com/EvcmKsz81B

— COLORS (@ColorsTV) December 29, 2017
She herself points out to her tears and says, "I'm not crying, this is fake." We don't know if Hina used this trick every time she cried on the show or her tears were genuine back then. But Twitterati are enraged over the actress for faking her tears all this while.
Kya dimag lagaya bande ne 😂😂😂😂😂 cry baby ko rula diya jhooti muti 😂😂😂😂 #VikasIsTheUltimateWinner

— Monika (@monikagoel4) December 29, 2017
Vikas to Hina : Kya expert hai tu roneme😭😭😢😢😂😂😂
Vikas Vikas Vikas😘😍
You r amazing😀👌#VikasGuptaFTW #BB11

— Rinmayee❄ (@Rinmayee_003) December 29, 2017
HINA EXPOSED, VIKAS ROCKED
EK TEER SE DO NISHANE😂✌#VikasGuptaFTW #BB11 #WEEKENDKAVAAR

— 🏅Sharma Ji🏅 (@sHARMa___G) December 29, 2017
I never thought of this😹😹
He is so amazing
What an idea
Aur vo maan bhi gye ki krte hain😹😹

i can't stop laughing#BB11 #VikasGupta

— GP🌸❤ (@_thisismystery_) December 29, 2017
Time and again, Hina Khan has been tagged as fake by Bigg Boss 11 followers, including some celebrities who follow the show. Millions on social media have accused Hina Khan of faking tears to gain sympathy. Remember that 'anda' incident? The actress made a molehill out of nowhere. She cried rivers sitting in the washroom just because Shilpa Shinde didn't make an egg for her.