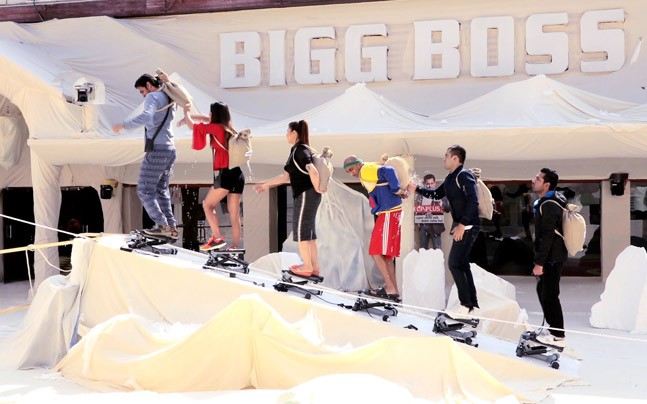 In last night's Bigg Boss 11 episode, The Ticket To Finale-BB mountain task was introduced, which is now proving to be an uphill battle.The task has brought to front the major divide that existed but never affected the housemates before - the celebrities and commoners divide. The celebrities Hina Khan, Shilpa Shinde and Vikas team up against the commoners Puneesh Sharma , Akash Dadlani and Luv Tyagi in the task.Seeing the celebrities coming together, Luv and Puneesh will decide to take them on. Will they be successful in eliminating Vikas from the task? It is going to be really intriguing to watch which of the two groups will emerge strong in the task.
It's now Commoners vs Celebrities in the #BB11 house! Tune in tonight at 10:30 PM to find out more. #BBSneakPeek pic.twitter.com/cQ5XViQ4XH

— COLORS (@ColorsTV) January 3, 2018
Here are the LIVE Updates of Bigg Boss 11 Day 94 January 3 2018, Episode 94
11: 30 pm: Hina questions Shilpa as to why she allowed Puneesh to empty her bag. Shilpa replies that Puneesh wouldn't have allowed her to do so. Meanwhile, Puneesh tells Luv that Shilpa allowed him to open Hina's bag and says that Shilpa is indeed playing a clever game.
11: 20 pm: Hina and Luv lock horns. Luv has Puneesh's bag, which Hina tries to release, but Luv protects it, but the two get into a sort of a tiff over that. Luv tells Hina not to pull him now and she was rough with him. Luv stands in front of the door and does not allow Hina to close the door. Luv tells Hina that she wants to play dirty. The two fight over it. They call each other coward.  
11:15 pm: Another round begins, Puneesh and Luv work on Vikas's bag and it weighs minimum, hence Vikas loses the Ticket to Finale task.
11: 10 pm: The task for the day starts off and inmates are back on the peddles and start the task. Akash's and Shilpa's bags weigh same and minimum so their bags get removed from. Akash is out as all his three bags have been removed. 
11: 00 pm : Shilpa says to Luv that she now knows how to play the game. She then goes on to say that she wanted to break Vikas, Arshi Khan and Hiten Tejwani's game and it did happen. "I am not overconfident but I am confident and  I trust my fans fully", says Shilpa.
10: 50 pm: New day for the contestants start off as they wake up to the song Hum bhi hain josh mein. Luv and Hina start talking about the BB 11 Mountain task. Hina says they have to empty Akash's bag and if Luv wants to empty Vikas's bag then he can do so but in a good manner. Shilpa on the other hand, says Hina and Luv will end up getting the ticket to finale. Puneesh doesn't agree.
10: 47 pm: The Ticket to Finale task for the day ends. Puneesh, Luv and Akash once again team up and discuss their chances to win the show. " It is celebrities Vs commoners, now", says Akash.
10:45 pm: Round three begins. Hina and Vikas claim that Vikas's bag which was with Akash is open from above, hence it involved cheating. It weighed 280. Hina and Vikas ask Bigg Boss what is the truth. Bigg Boss asks Hina to take a decision. HIna says she will take off Vikas's another bag as his bag weighed minimum. Vikas loses another point.
10: 42 pm: On the second ring, contestants again gather on the ramp and begin the task. Vikas loses a bag. Luv and Hina are discussing how they can out Vikas from the game. Hina asks him to focus on Akash while Luv says remove Vikas. 
10:37 pm: Luv, Puneesh and Akash team up and say that they will have to take the celebrities down. Vikas and Hina seem surprised at Luv's behaviour.
10:30 pm: Luv Tyagi tells Vikas Gupta that if he gets his bag then he will empty it. Vikas says that if Luv and the others have decided to gang up on him then be it. Luv and Hina Khan are seen talking in signals. The BB 11 Mountain task for the day starts off and contestants mean war tonight. Hina ends up losing a point.