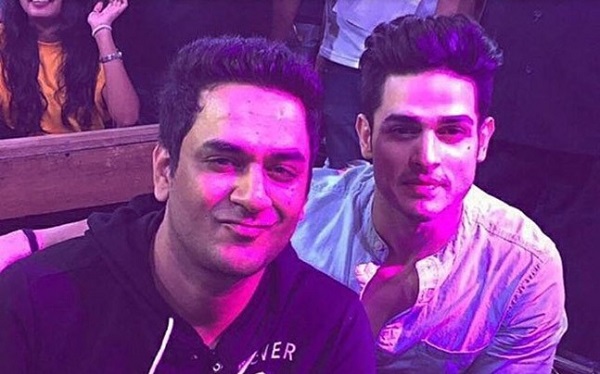 In yesterday's episode we saw how Team Shilpa exacted its revenge from Team Hina in the luxury budget taks Lilliput vs Daanav. Bandgi got to the extent of cutting Hina Khan's hair in the task. Shilpa Shinde stuffed garlics in Akash Dadlani's mouth, which developed allergic reaction due to the same. According to the reports, the reaction was so adverse that he was rushed to a nearby hospital for treatment. Now comes the day when housemates have to decide who deserves to go to the underground jail 'Kaal Kothri' this week. Let's see what happens in Bigg Boss 11 today. 
In the first scene, Hina Khan is seen sobbing in the washroom about her chopped mane. Sanchalak Vikas Gupta tries to console her. He apologises on behalf of his team, especially Bandgi Kalra. Vikas, in turn, says that he can't take responsibility for everyone in his team. Hina puts the entire blame on Vikas for not stopping his teammates for being merciless towards her team. 
There's a pleasant surprise in this episode. Priyank Sharma, who was at loggerheads with former friend Vikas Gupta tries to mend his friendship. He forcefully hugs him and bursts into tears. It was a reconciliation moment for the best buddies Vikas and Priyank. Vikas also reprimands Priyank for his antics on the show last week, indicating towards his bodyshaming remarks on Arshi and Shilpa. 
Hina Khan and Arshi Khan discuss Shilpa Shinde in the kitchen. Arshi asks why Hina is at loggerheads with Shilpa, when they were so close friends with her in the beginning. YRKKH actress mentions that Shilpa doesn't have cordial relationships with her mother, that's why she is frustrated with everyone in the house. 
Vikas Gupta, Shilpa Shinde, Arshi Khan and Hiten Tejwani recreate the still from iconic Amitabh Bachchan-starrer movie Silsila in the kitchen. Now, it was the turn for housemates to choose the worst performers. Bigg Boss also appreciate Vikas and Priyank's performance as the Sanchalak in the luxury budget task. Bandgi and Hina again embroil in an argument while settling down on three names for the Kaal Kothri punishment. 
It is now time to choose the three worst performers of the luxury budget task. Who will be sent to jail? Find out in #BB11. pic.twitter.com/ZuzhADZOEj

— COLORS (@ColorsTV) November 30, 2017
Majority of the housemates take Bandgi Kalra and Puneesh Sharma's name, along with Arshi Khan, which fumes the lovebirds. They refuse to go to the underground jail. Arshi suggests that Shilpa Shinde deserves to be in the Kaal Kothri as she used garlic on Akash Dadlani. 
Bandgi Kalra and Puneesh Sharma declare that they won't go into jail as they were from the winning team. Stay tuned to #BB11 to see what happens next. pic.twitter.com/Qc5zqUQwTX

— COLORS (@ColorsTV) November 30, 2017
Akash and Puneesh again get into a heated argument. Puneesh calls him names, including controversial former Bigg Boss contestant Swami Om. Shilpa Shinde reminds the housemate Akash Dadlani insulted Salman Khan in the Weekend Ka Vaar. Puneesh and Bandgi refuse to go to the jail at any cost. They defy Bigg Boss' orders and roam inside the house freely. 
Vikas Gupta loses cool on his former friend Arshi Khan, who is questioning his decision to back Bandgi Kalra. Hiten Tejwani tries to break into their verbal spat. He then turns to Puneesh and Bandgi, trying to persuade them to give into housemates decision. Bandgi sheds a tear, which in turn infuriates her boyfriend Puneesh. 
Vikas Gupta thinks that Shilpa Shinde is the strongest contender in Bigg Boss 11 house. He explains why he finds Shilpa the most entertaining player in BB house to Hina Khan, who in turn listens to him patiently. Meanwhile, Akash Dadlani tries to provoke Shilpa into using cuss words on camera. 
Next task in the Bigg Boss house seems to be a fun. In this task, every housemate has to send a contender to the cut-out which justifies the title the most. The housemates have to take a selfie with the cutout assigned to them. The winner will be rewarded with Oppo F5 selfie smartphone. Luv Tyagi is given the title of 'Fuski Bomb' by the housemates. Akash Dadlani is the 'Gadha' of the house. Housemates zero on Hina Khan as the devil. Shilpa Shinde is made to stand behind the cutout saying 'Thaali Ka Baingan'. 
Vikas Gupta is unanimously declared as the Bigg Boss winner by the housemates. However, Hina Khan wins the task with the most entertaining selfie behind the cutout. 
.@eyehinakhan takes a super fun selfie in the #OPPOF5 #CaptureTheRealYou task. Watch her only in #BB11. @oppomobileindia pic.twitter.com/cH4dTaawAg

— COLORS (@ColorsTV) November 30, 2017