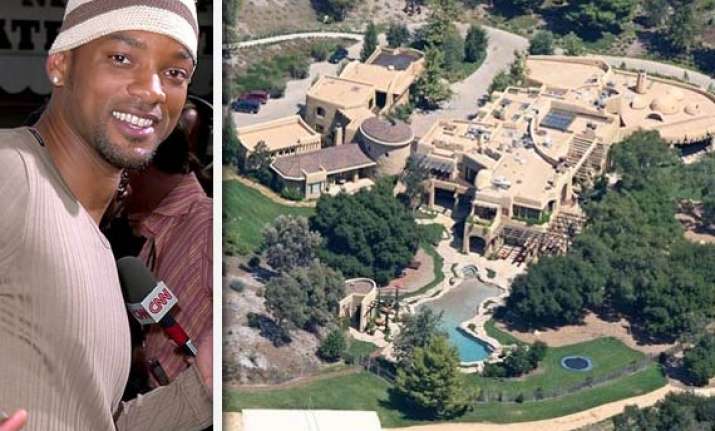 Los Angeles, Aug 4: Will Smith, the West Philadelphia rapper-turned-movie-star, hasn't had a box-office hit in more than two years, but he still was the fourth-highest-paid actor last year, according to Forbes.com.

His $35 million haul, though, included his signing bonus for doing Men in Black III, his agents vs. aliens action comedy due out in May.

While shooting scenes in New York in the spring, Smith made headlines because residents objected to his hogging street space with his gigantic personal trailer and a second one for his gym. He moved them to a private lot at Mayor Michael Bloomberg's request.

But if folks thought Smith's trailer was posh, with marble floors and cherrywood cabinets, they should check out the September issue of Architectural Digest.

The cover features the actor and his wife, Jada Pinkett Smith, touting an "exclusive" with "Hollywood's power family."

What's remarkable is how the Smiths - who live with their two children, Jaden and Willow, and Trey, his son from his first marriage - went all out for custom handiwork in their 25,000-square-foot, adobe-style mansion.

"Hundreds of master woodworkers, plasterers, metalsmiths, stonemasons, and upholsterers contributed their expertise to this deeply personal project," according to the report.

"Everything needed to be done by hand. We wanted to feel the love and labor that went into every piece of this place," Will Smith is quoted as saying.

"We're very earthy, organic people," Pinkett Smith says. "We wanted to create a family retreat, something made by hand and as natural as possible, something that ties back to the land."

There's also a lake, with a gazebo on land jutting into the center. "Answers come to me there," Smith says in a caption.

Some called Smith Hollywood's biggest star during a string of blockbusters from Bad Boys in 1995 to Hancock in 2008. His last starring role was in Seven Pounds, which hit theaters in December 2008.

Projects involving his kids have been his most recent successes. Smith produced The Karate Kid, which starred Jaden and raked in $176 million last year. Willow had a hit last fall with the song "Whip My Hair."