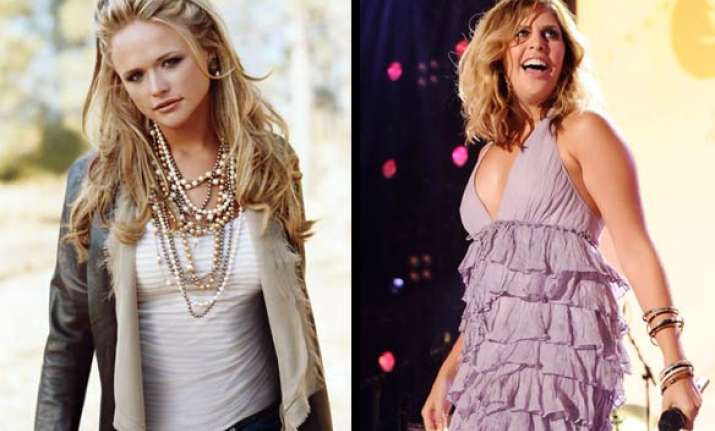 Las Vegas: Leading nominee Miranda Lambert won three early prizes at the Academy of Country Music Awards on Sunday, while Lady Antebellum picked up a pair, reports the DNA.

Lambert's nostalgic hit tune 'The House That Built Me' was honoured for single, song and video of the year at the 46th annual awards ceremony.

The award for single goes to the artist and producer, whereas the trophy for best song is given to the artist and composer.

The 27-year-old Texan leads the field with seven nominations, including her first bid for the coveted entertainer of the year award, a fan-voted honour. She will also defend her title as top female vocalist.

'The House That Built Me,' written by Tom Douglas and Allen Shamblin, is a wistful remembrance of the memories encased in a childhood home. Lambert won a Grammy for the song in February.

The trio Lady Antebellum, which led the Grammy winners with five statuettes, added two ACM trophies to their collection, for album and vocal group of the year.

Lambert was not eligible for the album award, having won it last year for her current release, and the group duly thanked her for not being a contender this time.

Country guitarist Brad Paisley was named top male vocalist for the fifth consecutive year. "I am honestly shocked, I really am. This is way too many of these for me."

The award for top new artist went to The Band Perry, a sibling trio from Mississippi. "Thank you so much for lending us your ears and your hard-earned dollars," said Kimberly Perry, flanked by her brothers Neil and Reid.

The announcement of winners took second place to a string of performances divided between two hotel venues, the MGM Grand and Mandalay Bay. The winner of the first award was not revealed until almost an hour into the three-hour ceremony.

The show was hosted by Reba McEntire, for the 13th year, joined by first-timer Blake Shelton, Lambert's fiance.

Early performers paid tribute to veteran acts. Paisley played his new song 'Old Alabama' alongside the three members of veteran country group Alabama, who retired in 2004.

In an American Idol reunion of sorts, former champ Carrie Underwood dueted with newly installed judge Steven Tyler on his band Aerosmith's 1970s nugget 'Walk This Way'.

Jennifer Nettles of Sugarland joined R&B singer Rihanna on the latter's new single 'California King Bed', and the Zac Brown Band was set to partner with veteran pop singer-songwriter James Taylor later in the ceremony.

Country sweetheart Taylor Swift, sporting a banjo, won a scattered standing ovation after taking on critics of her off-key vocal stylings in her new single 'Mean', a tune that labels her detractors as "pathetic."

The four-time nominee will also vie for entertainer of the year, a field rounded out by Paisley, Jason Aldean, Toby Keith and Keith Urban.