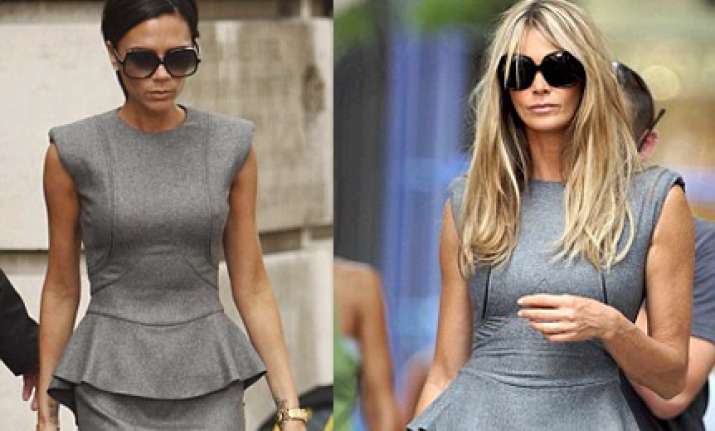 When a new designer is attempting to establish themselves in the notoriously tough fashion world, what better way to get ahead than to land a celebrity endorsement.
In what is sure to be a boost for Victoria Beckham's new dress collection, supermodel Elle Macpherson opted for one of Posh's creations for her latest TV role.
Spotted on location in New York City filming The Beautiful Life, the 46-year-old Aussie opted for £2,095 Carmontelle dress - the very same outfit worn by Beckham in London two weeks ago.
Who wore it best? Elle Macpherson wore a £2,095 Carmontelle cashmere-blend dress as she filmed The Beautiful Life in Manhattan - the same one worn by Victoria Beckham in west London  two weeks ago.
Despite wearing the warm cashmere-blend dress in the 30 degree heat, Elle kept her cool as she filmed street scenes in the Manhattan district of SoHo.
Just two weeks ago, Beckham and a young model wore the same grey dress as they shot an advertising campaign for the Victoria Beckham Collection in Notting Hill, west London.
This is the second time Macpherson has worn one of Beckham's designs - in May she wore a £1,500 black belted bandeau dress to an event to promote The Beautiful Life.
Beckham debuted the same gown nine months earlier as she attended her designer friend Marc Jacobs's show at New York Fashion Week last September.
Both times Macpherson has worn one of Beckham's creations, she has done so months after the designer.
Struggling? On-set sources claim producers are concerned about Macpherson's acting skills
But despite being 11 years older than Beckham, Macpherson looked better in the dresses due to her curvier figure.
While happy to endorse one of Beckham's dresses, Macpherson is now a business rival with Posh after the singer and her husband signed multi-million dollar.