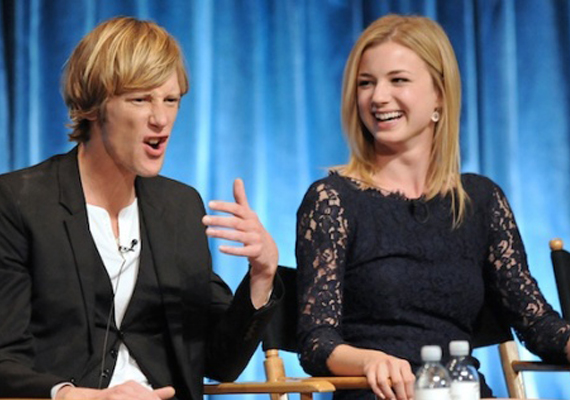 Los Angeles, Mar 12: The cast of "Revenge" answered fan's questions about the show and offered up titbits about future storylines at PaleyFest in Los Angeles.

PaleyFest is an annual event that invites the cast and producers of popular TV shows to speak about the show in a panel before a live audience.

Typically they also air a screening of a clips from or an entire upcoming episode.

"Revenge" is loosely based on the story of "The Count of Monte Cristo" but has a woman protagonist, Emily Thorne, who is out for revenge against the people she believes are responsible for killing her father and ruining her life.

It also stars Madeleine Stowe and British actor Josh Bowman.

The story is set among the upper-class society of the Hamptons in New York.

Emily VanCamp (who plays Emily Thorne) says she still finds the show's popularity surprising, "Oh my goodness. It's amazing. We never really anticipated all of this, so it's always just a bit shocking and seeing all of these people that are here to talk to us, that are passionate about the show, it's overwhelming and wonderful. We're really grateful, you know? It's cool."

Co-star Madeleine Stowe, who was recently nominated for a Golden Globe for her performance on the show, agrees with VanCamp.

"I'm delighted. I mean nobody I think ever imagined the show would kind of take off and have that fan base that it's had because you just never know. Things come and go so quickly in television but, you know, it's an interesting show, it's a show about obsession, so I guess that's what audiences are plugging into, right? They're becoming obsessed over the same things we're obsessed with."

Actor Josh Bowman, who plays Emily's fiance on the show, is happy that his character is still alive.

In the first episode of the series it looked as if he would be killed about midway through the season and viewers only recently learned that was not the case.

"It's been amazing to be a part of the cast and what's happening and to have constant work as an actor so to not be killed off was nice, you know? Real nice."

Bowman says he finds it funny that men and women are "Revenge" fans.

"Yeah, it's great. I was saying earlier my buddies from London who are rugby players a couple months back they said, 'Yeah, so we watched your show. You know...it's alright, it's alright and I get a couple days later, 'When's the next ep out bud?' (laughs) so I'm like, 'Alright.' It's great that people take a liking to it, you know? It's great."

"Revenge" airs Wednesdays on ABC in the United States.

It also airs in countries like Australia, Canada, Israel, Russia, Italy, Sweden and Norway.