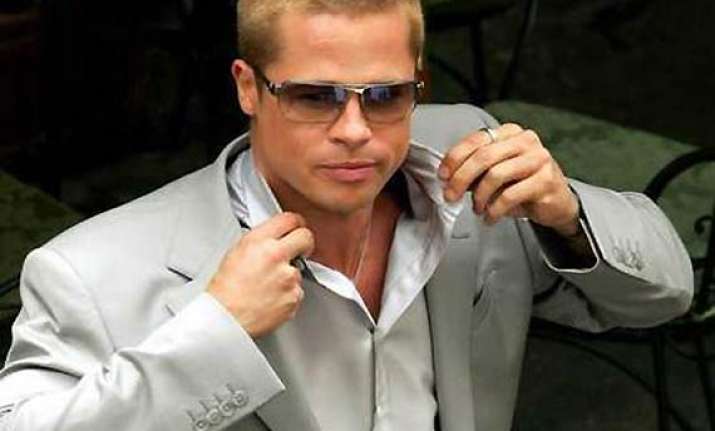 London, Aug 4: BRADMANIA is sweeping Falmouth as the town prepares to welcome the Hollywood superstar.

Last week Pitt was "spotted" at a local fish-and-chip shop with two of his "heavies" – but it was later confirmed the A-lister had still been in London at the time.

Secrecy still surrounds details of his actual arrival, but filming started on Tuesday on the multimillion-pound blockbuster World War Z (WWZ), which will feature 500 locals as extras.

The Paramount Pictures production, which will be partially shot on board a ship, is being supported by local film crew from the South West.

Fiona Francombe, South West Screen's production services manager, said: "We work to link up productions with the resources they need, and have been in close contact with WWZ's production team, local film crew and Falmouth Town Council to help prepare for this complex shoot, which is all the more exciting as it coincides with the busy Henri Lloyd Falmouth Week.

"It's important to remember that this type of production can be a major boost for a local area, with a high volume of crew and cast using hotels, equipment suppliers, labour and businesses."

Falmouth's town manager Richard Gates agreed. "The profile we've achieved for Falmouth and for Cornwall is already massive and it's going to continue to get bigger and bigger and bigger," he said.

"It's not just about the next two weeks; people will remember in the future where this was filmed and will hopefully come here."

The filming, due to continue until Friday, August 12, is taking place during the town's busiest period, with Henri Lloyd Falmouth Week starting this weekend.

"There are two ways of looking at it," said Mr Gates. "You could say this is a really chaotic time for it to take place, or you could look at it the other way and say it's one of the best times.

"We have so much going on that surely it shows Falmouth off to its full potential. The cast and crew won't be filming all the time so they'll be able to join in the fun."

While film crew and some of the cast are staying in local hotels, it's still not known for sure where Pitt will be staying or whether partner Angelina Jolie and their children will be with him.

Reports that his home will be a luxury yacht have not been confirmed.