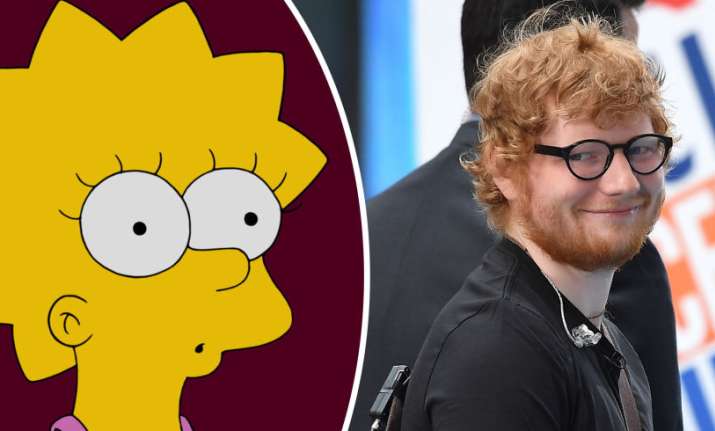 After his highly-publicised cameo in the seventh season premiere of "Game of Thrones", musician Ed Sheeran has now joined "The Simpsons" for a special appearance.The 26-year-old singer will feature as a musician named Brendan in the upcoming 29th season of the Fox comedy, reported Entertainment Weekly. Sheeran will voice star in a musical-themed episode, titled 'Haw-Haw Land', playing a character along the lines of actor Ryan Gosling's character in the Damien Chazelle-directed film.
Producer Mike Scully had heard "Shape of You" hitmaker was a Simpsons fan and rocks a tattoo of Blinky the three-eyed fish, was game in appearing on the show.Executive producer Al Jean explained, "We had a perfect part for him. So we said, 'Oh, great, we'll have him do this!' And we recorded him over the phone from England." 
Earlier, Sheeran has also appeared as himself on "Undateable" and had a recurring role on "The Bastard Executioner".The new sesaon premiers October 1, also featuring guest vocals from Norman Lear and Shaq.
Meanwhile, Tickets for Sheeran's India gig went on sale last week and were sold out in barely 48 minutes. BookMyShow went live with a special link for all those pre-registered for Sheeran's gig. The registrations were done from July 4 to July 10, read a statement. 
Diamond was the first category to be sold out followed by Gold and Silver. The concert is part of the Asian leg of Ed Sheeran's world tour to support his third studio album ". Kunal Khambati, Head-Live Events and IP, BookMyShow, said: "Just as we had anticipated, we witnessed enormous demand and traffic on our platforms from thousands of Ed Sheeran fans, not just residing in India but outside as well."
(With PTI Inputs)
For more entertainment stories, follow our Facebook page