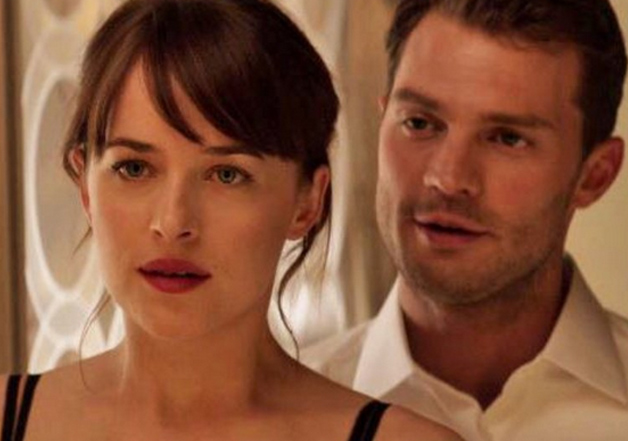 The first trailer of the second instalment of the 'Fifty Shades Of Grey' franchisee released on Tuesday. An adaptation of erotic novels penned down by E.L. James, the movie stars Jamie Dornan and Dakota Johnson.
The famous (and equally infamous) books tell about a college graduate Anastasia Steele who falls in love with a wealthy businessman Christian Grey. It is during her relationship with Christain that Ana gets to know his hidden interests for BSDM.
The books were labelled as 'mummy-porn' with many literature writers like Salman Rushdie saying that it makes 'Twilight' series look like 'War & Peace' (a classic novel by Leo Tolstoy).
Nevertheless, the popularity of the books earned it a full fledged adaptation for silver screen. 'Fifty Shades' has become one of the most accepted franchisees around the world.
With the trailer releasing, loyalists of the series could not keep their excitement together. The trailer, it seems has made up for all the disappointment from the first movie. The much hyped first movie 'Fifty Shades Of Grey', according to some failed the plot of the book.
After opening to many negative reviews, it looks like the team doesn't want to make any mistakes with this one. Here are few reasons why the second movie may turn out to be better than the first one:
Less of intimate scenes:
Agreed, that the plot of '50 Shades Of Grey' demanded a lot of steamy scenes between Ana and Christian. But, it seemed that the twists and turns of the plot were cloaked by the steamy scenes in the movie.
A brave Ana:
In contrast to the meek Ana of the first movie, the second one may see the brave side of her. In the trailer Dakota who plays the character says, "No punishments, no rules", sighting that she is ready to push her boundaries this time. Also, the way she walks out on Christian, tells that this time Ana will not do as Christian accepts her to. 
Justice to plot:
A plethora of new characters will feature in this movie. From the evil Mrs. Robinson to Christian's former girlfriend and Ana's pervert boss Jack Hyde, all have been shown in bits and parts in the trailer. This in turn means that all book readers who were disappointed might be content this time.
Elements of thrill and horror:
The trailer points out that apart from erotic scenes, the director James Foley has gone beyond bedroom scenes in this part. Car chase sequences, stalking, secrets will make way to '50 Shades Darker'.
Ana and Christian:
The trailer confirms one thing, that this time the chemistry between Christian and Ana will be a notch higher. Despite the first movie structured around an erotic story, their chemistry came as bland to viewers. But this time the case is going to change and the proof is their steamy sex scene in shower.