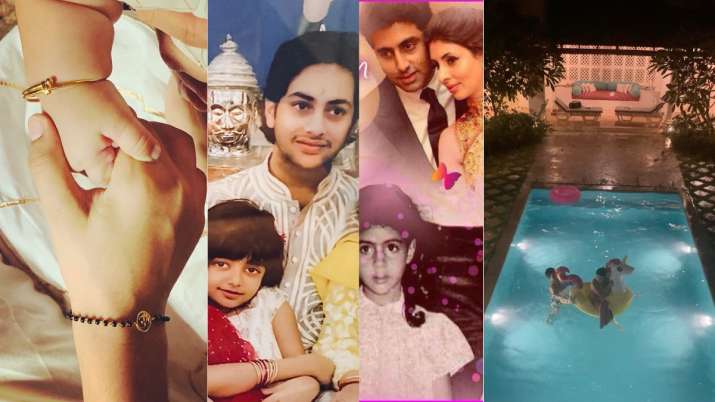 Happy Raksha Bandhan 2020: The festival to celebrate the brother-sister bond is finally here. People all over the world will have festivities on August 3 with the end of Sawan. On the festival of Raksha Bandhan, the sister ties a rakhi (a sacred thread) around the wrist of her brother and prays for his long and happy life while the brother promises to protect her in need and trouble. Raksha Bandhan marks the celebration of the protection of bond between the siblings. Not just us, our Bollywood celebrities are also celebrating Rakhi with their loved ones and are sharing wishes for their brothers, sisters and fans with adorable tweets, posts, and throwback pictures on different social media platforms. Catch a glimpse of their celebration here:
Megastar Amitabh Bachchan, who tested COVID-19 negative and returned to his home on Sunday took to Instagram to share a collage of pictures of his son, daughter Abhishek and Shweta and also his grandchildren. Alongside, he wrote, ".. and tomorrow be the festival of protection and security for the sister by the brother .. a pledge to be by her side, to hold her hand in times of trouble , to safeguard her from all evil that may erupt about and to let her know that no matter what he shall ever be by her side ..Raksha Bandhan : 'raksha' to protect ; 'bandhan' to tie to bond to hold together Our 'samaaj' does possess centuries old traditions that make us all valuable .. in the essence of behavioural convictions .. such convictions that can never be betrayed or dissolved .. they are the crafted genius of writings on stone .. forever .."
Abhishek Bachchan shared a major throwback picture from Covid-19 ward.
Sara Ali Khan shares a hilarious video with brother Ibrahim Ali Khan and wrote, "When he says he's always got my back...he doesn't mean it Happy Rakhi to all."
Parineeti Chopra shared a photo of her brother and wrote, "Throwback to the time when I was taller than them Happy Rakhi to the babies who became giants but remained my babies."
Akshay Kumar announces a new film dedicated to his sister on Raksha Bandhan. Sharing the poster of the film 'Raksha Bandhan,' the actor wrote, "Hardly ever in life does one come across a story that touches your heart so deeply and so instantly...it's the quickest I've signed a film in my career. Dedicating this film, #RakshaBandhan to my dear sister, Alka and to the most special bond in the world...that of a brother and sister. Thank you @aanandlrai for one of the most special films of my life. ‪Directed by Aanand L Rai‬ ‪Written by  #HimanshuSharma Produced by #ColourYellowProductions @cypplofficial in association with #CapeOfGoodFilms Presented by #AlkaHiranandani & Aanand L Rai, in theatres on 5th November 2021.‬ #SirfBehneDetiHai100PercentReturn."
Kareena Kapoor Khan shared Inaaya and Taimur's picture and wrote, "Inni wondering how Tim got that pout."
Priyanka Chopra wrote, "Happy Raksha Bandhan to everyone celebrating and to my incredible brood of brothers. I've always loved this special festival that celebrates the bond between brothers and sisters. I feel so blessed to have these wonderful, sensitive, supportive men in my corner always.
I miss you all so much. Sending lots of love and hugs and oh also...as part of tradition... waiting for my gifts."
Shilpa Shetty shared an adorable picture of her son and daughter and wrote, "Today and this moment is sooo special for us all, as Viaan-Raj and Samisha celebrate their first Rakhshabandhan . They say, 'our siblings are our first best friends', right here is the beginning of a 'forever' kinda friendship Viaan-Raj has always wanted and prayed for a lil sister - and his dream and ours has come true,making today extra special. I'm glad that they will always have each other to fall back on... someone to love unconditionally, talk to , crib about, yet be fiercely protective Tell your sibling today, how much you love them; and if they're around you, don't forget to give them a tight hug! Happy Raksha Bandhan to my instafam."
Late veteran actor Rishi Kapoor's daughter Riddhima Kapoor Sahni shared a picture with her brother and actor Ranbir Kapoor on the festival and wrote, "Happy Rakhi love you."
Legendary singer Lata Mangeshkar shared a video talking about how she is wishing PM Narendra Modi on the festival of Raksha Bandhan and wishing for his long life. In return, she asks for a promise that he would take the country to the top. Captioning the same, she said, "नमस्कार आदरणीय प्रधानमंत्री नरेंद्रभाई. आपके लिए मेरी ये राखी." This translates to, "Hello respected Prime Minister Narendra Bhai. This is my rakhi for you."
नमस्कार आदरणीय प्रधानमंत्री नरेंद्रभाई. आपके लिए मेरी ये राखी. @narendramodi pic.twitter.com/Na9yGFVKke

— Lata Mangeshkar (@mangeshkarlata) August 3, 2020
Soha Ali Khan shared an adorable photo of Taimur and Inaaya and wrote, "On the ball and in my corner. #happyrakshabandhan #timandinni."
She even shared a throwback photo with her brother Saif Ali Khan and wrote, "There's no denying you are the coolest brother I know. And there s no denying I don't know the first thing about being cool! #happyrakshabandhan bhai."
Shehnaaz Gill shared a photo of her brother and wrote, "You my brothers are the pillars of my strength & my shield, I know I can always count on you no matter what, even if the entire world walks out on me one day... I know that you will never leave me, I have immense trust in you my brothers, if I'm sad or happy or in any mood, I know that you are always there to cheer me up & embrace me with joy. @badeshashehbaz @rajbircheemaa Navraj sandhu, navroop sandhu, sabi cheema , Arshdeep cheema , Ajaydeep cheema mere saare veer meri jaan hai waheguru mehar kare. #rakhshabandhan."
Ayushmann Khurrana wrote, "क ऐसा समाज बनायें जहाँ लड़कियों को सुरक्षित महसूस करने के लिए अपने भाइयों की ज़रूरत न हो एक रिवायत के तौर पे राखी बाँधने के लिए मर्द की कलाइयों की ज़रूरत न हो।"
Malaika Arora shared a beautiful photo of herself and sister Amrita Arora in which the two of them can be seen all decked up. Alongside, she wrote a long message that read, "'Tum hi ho bandhu, sakha tum hi'. It's not just a prayer, it's not just a song...it's what defines our boundless relation. You are not just my baby sister...u are my best friend when I need one, an elder sister when I feel like being a child again, a sounding board when I feel like venting and a brother so I never miss having one. We are everything to eachother and words fall short to describe our eternal bond. Happy Rakshabandhan to you! Here's to the multiple roles you play in my life...a sister, a brother, a friend and many more.
Whether it's the sisterhood of undying support or bro code to protect eachother fiercely...we have it all. The best of both worlds in one package, that's how I'd like to describe you. It can be the entire world against us and I'll still be confident of winning with you by my side. You are a sister who always has my back and a brother who'll protect me at any cost. This Rakshabandhan I'd like to thank you for playing multiple roles in my life- a sister, a brother, a friend and many more."
Neha Kakkar wrote, "'Time' is the most precious gift you can share with the most precious people in life Happy Raksha Bandhan Everyone!"
Prime Minister Narendra Modi tweeted, "Many greetings to all citizens on the festival of Raksha Bandhan."
रक्षा बंधन के पावन पर्व पर समस्त देशवासियों को बहुत-बहुत शुभकामनाएं।

— Narendra Modi (@narendramodi) August 3, 2020
Rhea Kapoor also shared an adorable video featuring her sister Sonam Kapoor and brother Harshvardhan Kapoor and wrote, "Meri Wali Home Story Growing up with siblings is one of the greatest blessings in life. They are our first best friends and the foes we can't live without. The most beautiful aspect of the sibling relation, however, is that no matter how old you grow, how distant you stay, and how busy or stressed you are, even the thought of being with your sibling(s) in the safety of your house takes all the stress away. It is one of the most refreshing and overwhelming feelings.
The same is the bond that I have shared with my siblings all through my life. We have been together, from being partners in crime to pillars of strength for each other. @square_yards gave us this beautiful chance to relive our memories and has motivated us to make new ones this Raksha Bandhan."
Actress and former beauty queen Manushi Chhillar shared that, for her, the festival of Raksha Bandhan has always stood for gender parity and equality. According to Manushi, her parents Mitra Basu and Neelam taught the three siblings -- Dewangana, Dalmitra and Manushi -- that protecting each other and standing by each other is most important. "In my family, my parents have always instilled a sense of parity, a sense of equality in everything we do or celebrate. So, even when we have celebrated Raksha Bandhan, it has been a very inclusive occasion for us," Manushi said.
She added: "Dewangana, Dalmitra and I have always celebrated it as a day to appreciate the bond we share as siblings and promise that we'll always be there for each other. We're best friends!" Manushi says that her brother Dalmitra is hugely progressive in his thinking because of her parents. "My brother, being the youngest, has himself been vocal about the fact that he needs his sisters as much as we need him. That's the bond we share," she said.