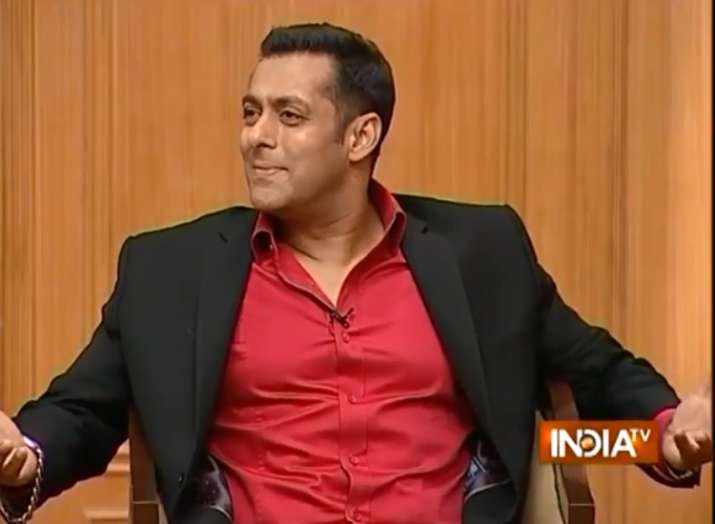 Superstar Salman Khan finally spills the beans about that one question that the nation has been asking him for a long time- his marriage plans. The man who has broken the internet with his latest release Race 3 revealed that the court cases have hit a pause button on his marriage as he thinks it would be unfair to marry if he may go to jail one day.
The superstar was very clear that he doesn't have a problem in getting married but with all the cases attached to him, it gets difficult to think about wife and children. He said, "Once there was a time when I thought I will get married. But that did not happen. But now, there are Jodhpur and Mumbai cases. Hopefully, we will win both cases on merit, but if we don't, then do you think it will be fair that I am in jail leaving behind my wife and children?"
"I will think about marriage only after the cases are over," Salman Khan revealed to Rajat Sharma in a conversation on Aap Ki Adalat.
The Race 3 star also talked in great detail about his glorious stardom with just 80-90 films. But what interested us all the most that even after being a record-breaking actor in the industry, Salman has never kissed the heroine onscreen. When asked about the reason, Salman said that he doesn't feel that it is important to kiss onscreen.
The actor said, "I don't think that there is any script so important in the world that one has to kiss for it onscreen." Salman even took the audience down the memory lane to his iconic kissing scene in Maine Pyaar Kia with Bhagyashree and was proud to claim that the scene goes down in history.
But will the actor stand still on his motto of not getting intimate on the big screen? Only Salman Khan will know!
Salman Khan starrer Race 3 has already taken over the audience with its high-octane action and a pinch of family drama. The movie also stars Jacqueline Fernandez, Anil Kapoor, Daisy Shah, Bobby Deol and Saqib Saleem. 
Aap Ki Adalat featuring Salman Khan will air on India TV tomorrow at 10 pm.
Bollywood superstar @BeingSalman Khan speaks about his relationships in #AapKiAdalat Tomorrow night at 10 @indiatvnews 'जो चीज़ें मेरी लाइफ में आती हैं, वो मुझसे ज्यादा जल्दी छूटती नहीं है, लेकिन अब टाइम आ गया है थोडा-सा मूव आउट करने का "-आप की अदालत में सलमान खान कल रात 10 बजे pic.twitter.com/GqFYftM4Nn

— Rajat Sharma (@RajatSharmaLive) June 15, 2018
Salman Khan's latest Eid offering Race 3 hit the cinemas today. Read our review HERE.