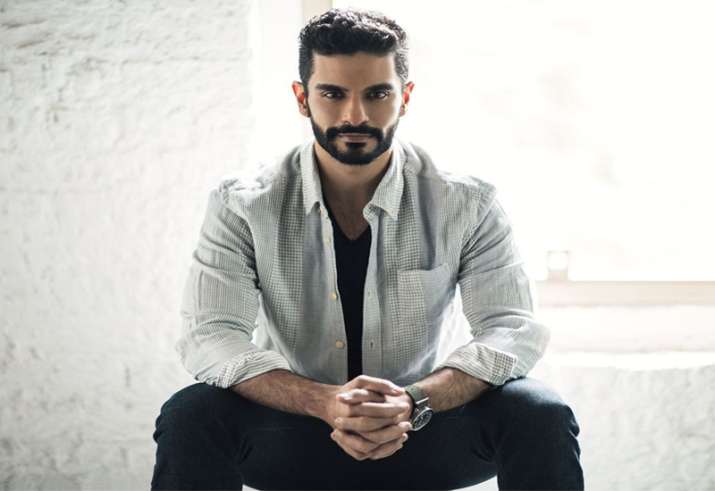 Whether it is the iniquitous antagonist Rajveer Singh in the National Award-winning film Pink, the gutsy Namit Khanna in Tiger Zinda Hai or the brave-heart Bikramjit Singh in Soorma, Angad Bedi has not just outshone his own performances, but has set a new benchmark for actors in his league. 
Angad, husband of Bollywood actress Neha Dhupia, is currently basking in the success of Soorma, a biopic on renowned hockey player Sandeep Singh featuring Diljit Dosanjh and Taapsee Pannu in pivotal roles. The Soorma actor, in a telephonic interview with India TV from Mumbai, gave us a sneak peek into his topsy-turvy ride to stardom.
Like any other son, Angad too considers his father a true source of motivation. He is a real fighter just like his father, Bishan Singh Bedi, the former Indian cricketer. He still looks up to his father for any important decision in his life. Sharing few such incidents, Angad said, ''My motivation in personal and professional life is my dad because the way he has played and inspired many other players to play cricket the correct way. He had a great professional life and has always been an outspoken man. The fighting spirit that I have comes from my father. Professionally, I also consider Amitabh Bachchan, Sachin Tendulkar, MS Dhoni, Virat Kohli as my inspiration because of their firm determination and self-discipline in their respective fields.''
When it comes to fitting into his character, Angad never leaves any stone unturned. He gave his best to do justice with Bikramjit Singh's character in Soorma. It was only due to his perseverance that he succeeded in essaying the brotherly bond between Sandeep Singh and Bikramjit Singh onscreen with such ease and perfection. Talking about all his hard-work he did to fit into the character, Angad said, ''For Soorma, we had to train to get the body language of the hockey players correct. Sandeep Singh helped us a lot in Mumbai. But once we went to Shahbad, Bikramjit taught us all the nuances of hockey. Whether it was about the hockey style, diet or training in the gym, it was all monitored by both the brothers Sandeep and Bikramjit. I had to learn Bikramjit's style, his body language, his energy on the hockey field, how Bikramjit is considerate for Sandeep all the times, their bonding and relationship. A lot of effort was required to step into the shoes of Bikramjit. He is a man with such a high energy and at the same time he has a beautiful emotional arc. I would also like to give due credit to Shaad Ali sir, for selecting me for this role.''
Further, Angad spoke about his Tiger Zinda Hai co-star Salman Khan and said that he is very impressed with his (Salman's) child-like demeanor. Angad also revealed a few lesser-known traits of Bollywood's 'bhaijaan' Salman. ''Salman bhai is a very loving and caring person. He backs you when he sees you working hard. He has got a childlike personality. He loves to listen to good stories and shares his stories as well. He is such big star but still loves to live a normal life. I would love to work with him again as he is a great actor and one can learn a lot from him. He starts making your scenes better, so, what more to expect,'' revealed Angad.  
Angad is quite hopeful of getting an offer in Tiger Zinda Hai sequel and said, ''I would love to work with Salman bhai in Tiger 3. He is a phenomenal co-actor to work with. It's a beautiful association with him as I can share anything with him.''  
The super talented actor Angad, who got hitched to Neha in a private ceremony recently, would love to work with his wife in a romantic comedy. When asked that when can we see the couple together in a film? Pat comes the reply, ''When the right script comes.'' ''Yes, I would surely like to work with Neha in a family oriented or a romantic-comedy, or in any Punjabi film,'' said Angad.
On a question on how his professional life changed after marriage, Angad said, ''Yes, it has changed a bit because 'Wo kehte hain na jab aapke partner ke aapko bhag lagte hain.' So, I feel that Neha's blessings and wishes are always with me. Soorma is working and I would give the credit to Neha and my family as well for supporting me. Neha has given me a lot of confidence and self-belief, which I really appreciate. She is a hard-working and a goal-oriented actor. We share our experiences with each other, help each other and I think that's the meaning of marriage. I do consult her as her opinions are important to me and I will continue to do so in future as well.''
When asked how much supportive Neha was during Soorma preparations and promotions? Angad said, ''Neha has supported me throughout my Soorma journey. She has helped in promotions of the film. She even promoted Soorma on different social media platforms like Facebook, Twitter, Instagram and other mediums. She even appreciated my performance. So, whatever work I will do in future, I want to run it by her.''  
Even our very own cricket legend Sachin Tendulkar was impressed with Angad's performance in Soorma and tweeted, ''He's done a brilliant job. I have seen Angad grow up as a kid and his Dad is a dear friend of mine. The film is extremely inspiring, not just for sportsmen but generally for everyone. It's a terrific story and it clearly portraits the 'Never say die attitude' and standing back on your feet again to deliver.''
Reacting to Sachin's praise, Angad said, ''I feel extremely humbled that the legend Sachin Tendulkar has seen Soorma and wished me luck. I have known him since I was seven years old. He has been extremely supporting and he saw all my films including Pink, Tiger Zinda Hai and now Soorma. His appreciation matters a lot to me because if the film moved him that means we have done something right. I can't be more grateful to him. I have lot of gratitude for Sachin sir.''
Angad, who has worked with Amitabh Bachchan in Pink, considers himself fortunate to get a chance to share screen space with the megastar. Sharing his experience of working with him, Angad said, ''I have been extremely fortunate as I got an opportunity to work with Amitabh Bachchan and Salman bhai. I have learnt how to live a disciplined life from him. I have learnt how to be spontaneous through Salman bhai. They are two pillars of the industry and between these two pillars our industry resides. I am really hoping that I can carry forward this association on personal and as well as professional front. During Pink, I got lots of love from the entire Bachchan family including Aishwarya, Abhishek and Jaya ma'am.'' 
Meanwhile, Angad who has also shared screen space with Taapsee Pannu in Pink and Soorma would love work again with her. ''Working with Taapsee was great. We have done two films together Pink and Soorma and both have worked well. I would love to work with her again. Hope the producers and makers are listening,'' said Angad.
Newly-married couple Neha and Angad are equally excited with the positive response to Soorma and revealing his celebration plans Angad said, ''I have decided to go on a holiday with my wife Neha, may be to Bali or Maldives.''  
Currently, Angad is busy in the shooting of Inside Edge season 2.