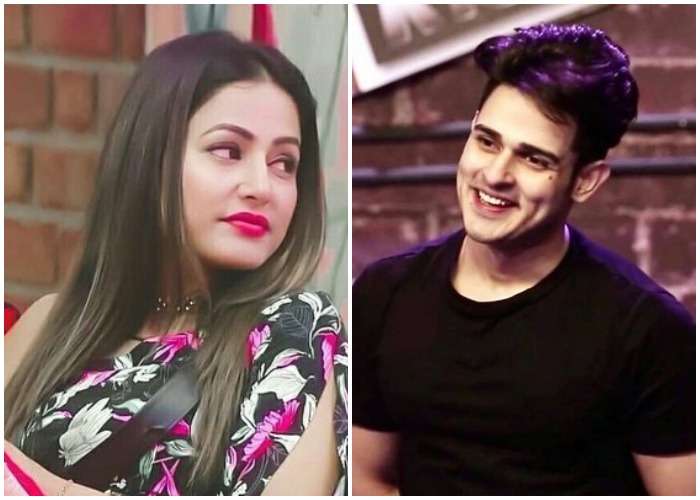 In the Bigg Boss house, the ever-changing friendships of the housemates are the most discussed topic nowadays. After the eviction of Hiten Tejwani, the dynamics of the house has changed drastically. The once-friends have turned foes while former enemies have joined hand like nothing ever happened. Priyank Sharma and Vikas Gupta's friendship is one among the most talked about topic in the house. Last night in Weekend Ka Vaar, in shocking turn of events, one of the most popular housemates Arshi Khan got evicted. Her unexpected eviction left Vikas Gupta teary eyed.
On Sunday, the Weekend Ka Vaar started with Hina Khan and Luv Tyagi discussing how they would never get back being friends with Priyank Sharma. Hina also goes on telling that she will remain friends with Priyank after Bigg Boss 11 gets over. Puneesh goes on saying that Priyank is not Vikas' friend but his bait.
Salman Khan gives Akash Dadlani, Priyank Sharma and Luv Tyagi a task to fill balloons using their bum. Luv wins the task with 6 balloons as Akash's balloon weren't completely inflated. Priyank Sharma was declared the master of the task.
Popular singer Mika Singh sets the stage on fire with his hit number Jumme Ki Raat from Kick 2. Salman Khan and Mika perform together on Aaj Ki Party from Bajrangi Bhaijaan.
Mika Singh meets the housemates in the Bigg Boss 11 house. He goes to Vikas and handles a gift to him. He tells him that he cries a lot. Hina is presented with almonds as she tends to forget things easily. Akash Dadlani is gifted with pacifier as he behaves like a baby in the house.
Shilpa Shinde dedicates the song Main Khiladi Tu Anari to her close aides Akash Dadlani and Puneesh Sharma. Puneesh dedicates Laila Teri to Shilpa as he thinks she is the mastermind of the game. Hina Khan dedicates the song Gandi Baat to Akash Dadlani and we don't even wonder why.
In a fun task, Salman Khan made the housemates listen to statements made by other housemates. The housemate in question has to guess which contestant made the statement and in turn have to spray on the face. This was the 'Pol Khol' task of the game as each housemate will come to know what their so-called friends think about them.
Salman Khan turns Priyank Sharma and Luv Tyagi against each other in Sultani Akhada. In round one, Luv Tyagi wins hands down. But on the fighting ground, Priyank Sharma leads the race hands down. Hence, Priyank Sharma wins the Sultani Akhada medal.
RJ Malishka and Raghu enter the stage and join host Salman Khan. Malishka and Salman have a conversation during which she asks him to lift her. The actor replies wittingly saying, "Tumhe toh bhagwaan hi uthayega."
Salman Khan narrates how his father Salim Khan helped him pick up experimental roles for himself. He expresses gratitude to him. He also talks about Kumar Gauran and Sunil Shetty who have helped him get through tough phases of his life. In this special segment, Salman Khan revealed his first earning and its nothing like what he earns now. He was paid only Rs 75 for his first work. The Entertainment Ki Raat crew leaves the show and thanks Salman Khan for having them on the stage.