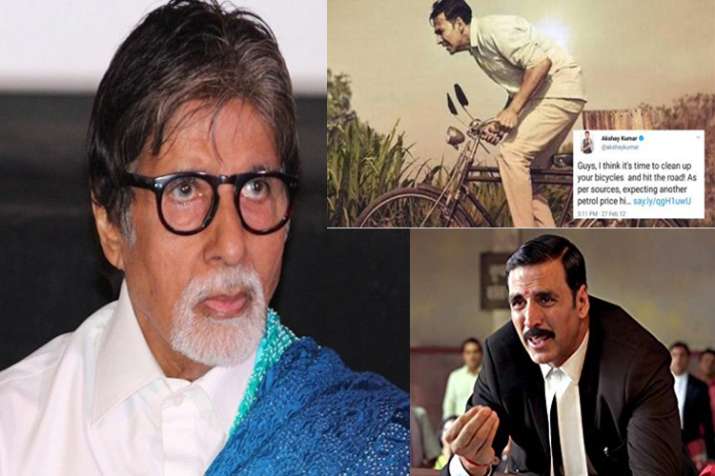 Akshay Kumar, who is quite vocal on social issues, has landed himself in an unexpected controversy as he deleted a 2012 tweet on price hike on petrol. Twitter questioned Akshay as soon as they noticed this step taken by the Rustom actor. When the nation is finding it tough to deal with the sudden rise in petrol prices, Akshay created controversy by deleting his tweet on the 2012 government on the petrol price hike. 
For the record, here is what Akshay wrote in 2012. He tweeted, ''Guys, I think it's time to clean up your bicyles and hit the road! As per sources, expecting another price hike..." 
Twitterati has not just slammed the actor for this move, but also questioning him for his silence on the petrol price hike. 
Couldn't even get to my house at nite for all of Mumbai was queuing up for #petrol before the prices rocketed again.

— Akshay Kumar (@akshaykumar) May 16, 2011
Several other celebs also spoke in 2012 for the price hike by the then government and now fans are expecting them to break their silence on the matter once again.
When I saw Rs. 62 trending, I thought it must be either the reduced petrol price or some new scam of Rs. 62 crores but… http://t.co/tJBnnZwG

— Akshay Kumar (@akshaykumar) July 15, 2012
Twitter shared screenshots of Amitabh Bachchan and Anupam Kher's tweet on petrol price hike in 2012 and questioned their silence. 
The price of petrol and diesel in the Modi government is skyrocketing, inflation is at its peak level,

Before 2014, Amitabh, Ashok Pandit, Vivek Agnihotri, Akshay Kumar and Anupam Kher, who oppose rising prices of petrol and diesel, why silent? #FuelLootBySuitBoot @IYC pic.twitter.com/aL6CyLmvYz

— संजीव शर्मा (@SanjeevINC) May 22, 2018
@SrBachchan and @akshaykumar both are spineless characters of Bollywood. Petrol price is all-time high, ppl are suffering, they should have protested as they did in the past, instead choose to keep silent. Their double standards and hypocrisy exposed.

— Gangaram Raju (@gangaram_raju) May 22, 2018