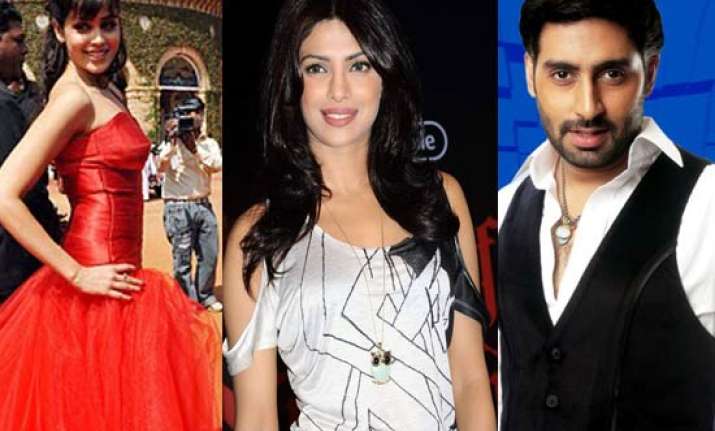 Mumbai, May 22: A local tabloid has thoughtfully collated the comments posted by Bollywood stars about our airports and airlines. 

No wonder, the report said, most stars look grumpy when they get off a plane.

Apparently,airports arent the best of places for these frequent-fliers, who are left with no option but to leave their starry tantrums at home.

The officials would have none of their Don't you know who I am.

Here are some of their comments:

ABHISHEK BACHCHAN:

Ok,just figured why they give such a heavy breakfast on the morning flights to Delhi...... They know youll burn it all off when the Delhi airport makes you walk,what seems like,half the distance to your destination!!! Somebody get me a wheelchair! PLEASE.

PRIYANKA CHOPRA:

Its too Early to be catching a flight.On my way back to Mumbai from kolkata. .. transit flight.too long..

RAHUL BOSE:

Unbelievable bungling by kingfisher my seats occupied by someone eating a full meal! Am told to please sit elsewhere till he finishes!!

Add another airport that allows you to walk to the plane Dehradun.

This is getting ridiculous.Seen the same airhostess three times this week.havent met my sister & niece once in the same span.

Airline bus has run out of gas.Passengers on tractors.Meals harvested fresh as we travel

Airport bus has been driving for 25 min.When I asked the airline attendant where we were going she sweetly replied chennai.

Our airplane is reversing and an engineer is thumping from the back to guide the pilot like the BEST buses

GENELIA DSOUZA :

Air travel hs bcum so unfair,der is a 45min prior deadline4a passenger2check in n if evn a sec later d passenger doesnt get 2board d flite..

Hwevr 1ce all d passengers hav boarded,d flite is invariably delayed n d passenger hs no voice if d airline causes delays.. Y

A passenger who hs a confirmed ticket n is way b4 d 45min deadline still doesnt hav d security of gettin on 2d flite,cos d airline is allowed 2overbook d flite as a policy,den wat does d term confirmation mean

ROHAN BOPANNA:

Just landed in Paris.Waiting for my bags and hopefully they have made it as well.