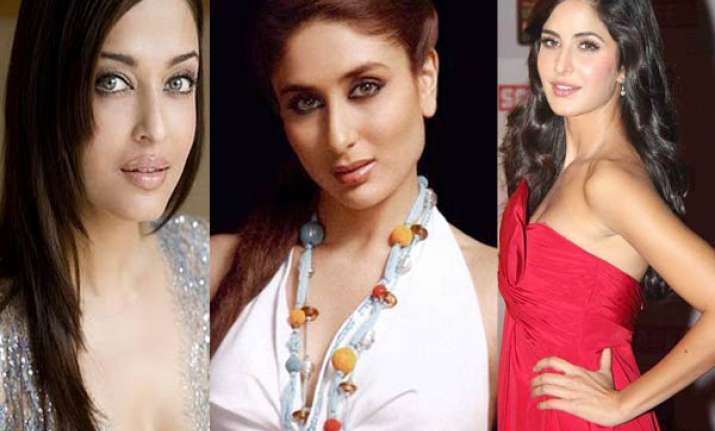 Leading Bollywood filmmakers, who are casting for their films right now, have confirmed that several top heroines have hiked up their prices to almost double the amount that they used to charge a year back, says a media report.The report said, the asking rate of newbies such as Sonakshi Sinha and Anushka Sharma is between Rs 1- 2 crore per film.  

"We could rope in Katrina for two and a half crore till last year. Now the same amount won't fetch you a heroine who's just two-three-films-old. There needs to be some serious correction when it comes to actors' salaries now," says a leading filmmaker.Leading ladies like Katrina Kaif, Kareena Kapoor, Aishwarya Rai-Bachchan and Priyanka Chopra are not taking anything less than Rs 5 crore, say filmmakers.

"Kareena has been offered a humongous sum to do Madhur Bhandarkar's Heroine but Katrina and Priyanka aren't charging any less either.

"Kareena and Aishwarya seem to be on top of the ladder when it comes to acting fees. Katrina and Priyanka follow closely," another deputy to a top studio owner adds, who has just signed Katrina for a film.For actresses like Sonam Kapoor, Asin, Deepika Padukone and the likes of those who don't fall into the above two brackets, the fees of this bracket is negotiable.

"Their fees are thankfully negotiable. Most of these actresses are not so hung up on their prices because their primary goal is to sign movies. Interestingly, it is this bracket which has the least number of good movies in their kitty," one of the filmmaker adds.

About actresses like Preity Zinta, Ameesha Patel, Lara Dutta, and Sushmita Sen, the source says: "Most of them have one or maximum two good projects in the pipeline and they are concentrating on their production house. So there's no price. It's pay-me-as-you-please." Other heroines like Mahie Gill don't even know how much they are getting for a film. Take it or leave it.