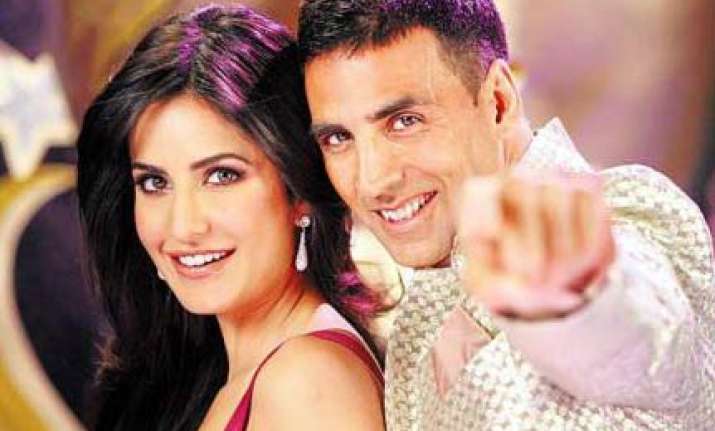 Bollywood star Katrina Kaif says, she did the relatively minor role in De Dana Dan, and Akshay Kumar has reacted in this fashion:  "Well, if she insists she did it for me then what can I say, except, 'Thank you, Katrinaji.' 
Says Akshay in a media interview: "This isn't a typical romantic film featuring Katrina and me. We don't sing and walk into the sunset. I'm crazy about Katrina in De Dana Dan. But I don't have the money to impress and win her. In real life I'd never take to crime to win a girl. In this film I do. But it's a goofy crime."
After De Dana Dan Akshay has almost completed another film Khatta Meetha with Priyadarshan co-starring a new girl Trisha. 
Asked about Trisha, Akshay laughs and says, "I hope she's a hit. Like Katrina, Trisha knew no Hindi when she started working with us. But Katrina had the drive and willpower. I can see the same qualities in Trisha. I think she's managing the Hindi pretty well. Waqt sab kuch sikha dekha deta hai."
Says Akshay, "People want to know if De Dana Dan is Hera Pheri Part 3.They don't know there's no Hera Pheri 3. We're moving on to Part 4. The only thing that is common between De Dena Dan and the Hera Pheri series is the fact that Paresh Rawal, Sunil Shetty and I are together and it's directed by the genius director Priyadarshan."
That brings us to the fact that people seem to not appreciate Akshay in non-comic unconventional roles. 
"That is not true," he refutes. "At one time I was typecast as an action hero. I tried very hard to be comic hero in Mr and Mrs Khiladi. It didn't click. But I didn't give up my attempts to be accepted in comic roles. I've done out-and-out comic roles successfully and romantic films too. I'm now doing a rom-com Action Replay with Aishwarya Rai Bachchan. But at the same time I won't give up doing unconventional films. I gave my best shot to Tasveer which was different. So what if it didn't work?"
Akshay says Priyadarshan is a  genius. "There's no one like him. He's the speediest director in the business. What a strong team he has. His cinematographer sets up shots in minutes. Priyan is a dream director. I trust him completely on what to do in front of the camera."