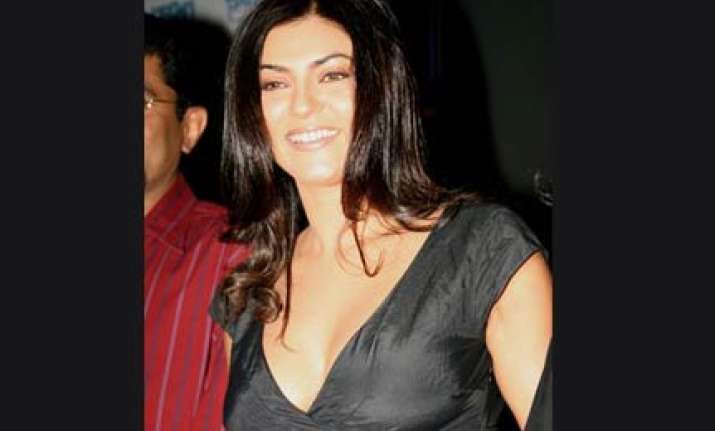 Her personal life often grabs more attention than her work, but actress Sushmita Sen has gone ahead and announced in her signature candid style that contrary to rumours, she is completely single. The 34-year-old actress denied reports that she has got back with ex-lover Manav Menon after splitting from Dulha Mil Gaya director Mudassar Aziz. 
"I am completely single at the moment and enjoying it. I am not the kind of person to hide a relationship. So when I am in love, I will let everybody know," Sushmita said.
When asked whether she was ready to mingle, the actress pointed to the crowd surrounding her and said, "I am mingling, ain't I?" Sushmita, who is mother to two adopted daughters — Renee, 7, and six-month-old Alisah — is enjoying life to the fullest and is back to her svelte self after piling on the pounds in the past. She is now all excited about being the showstopper for Ritu Beri at the Wills India Fashion Week in New Delhi. 
"I love fashion and I find it a very personal statement of one's identity and walking the ramp is a great experience because there is so much energy and you do not have to wait to see the audience's reaction," the actress said.
Sushmita, who at the age of 18 became the first Indian woman to win the Miss Universe crown, has put her film career on the back burner for her pet project 'I Am She'.
Her production house, Tantra Entertainment Private Limited (TEPL), was awarded the India franchise by the Miss Universe Organization, which conducts the pageant across 95 countries of the world. 
The actress is also the latest Bollywood celebrity to be bitten by the tattoo bug. She got four tattoos last year. Her latest tattoo is a bold etching of the words ' I Am' on her right wrist, which she says, is a proud declaration of her own identity.
" I love tattoos. I have three on the arms but the fourth one I cannot show you. They are all permanent and I think I will add more to them," Sushmita said. The one on her right arm reads ' Temptation' and she also sports a tattoo on the left wrist, which says Soli deo glory, meaning ' Glory to God alone' in Latin." I love my Temptation tattoo, with the T shaped like a dagger. To me, it means that temptation is a beautiful feeling, but it is equally dangerous," she said.