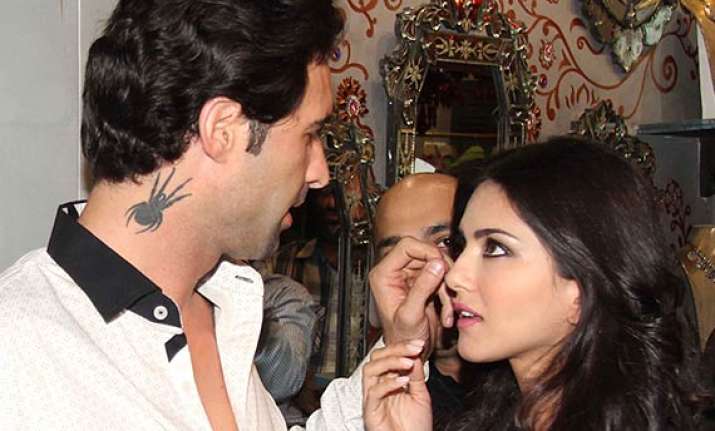 Sunny Leone, the hot exotic babe of Bollywood has carved her own niche by giving extraordinary daring stints on screen including her over the top steamy scenes in her films.
From her bold persona to her intriguing beauty, everything has put her on a continuous flickering bar of success but one thing that has remained intact so far is her bond with husband, Daniel Weber.
The man who always escorts the beauty wherever she goes never let her alone anywhere. Be it the sets of Sunny's films, or various other public appearances, Daniel Weber can be spotted at every tiny point Sunny makes her visit to.
And while the love between the couple seems pretty evident from their gestures at varied places, the man do not even shy showcasing his care for the lady whenever a chance comes.
Recently, when Sunny Leone came at the store launch of one of her designers  friends, she was accompanied by her husband there. And what caught our eyes amid many poses and clicks was the moment when Mr. Weber helped Sunny get rid of something troubling her eye.
While other celebs seemed busy posing and talking to the media, Daniel immediately noticed that her beloved wife was suffering irritation in her eye and that was when he ran to help her.
Such a love! Such care! It was a beautiful moment seeing a star couple getting drowned in their world of affection leaving behind all the flurries around.
More recently, after the raving success of Ragini MMS 2, Sunny Leone went for a romantic vacation with her husband to Dubai and Nepal.
Well, we know that there would be many hearts jealous of Sunny's man, we say a great made-for-each-other couple they form!