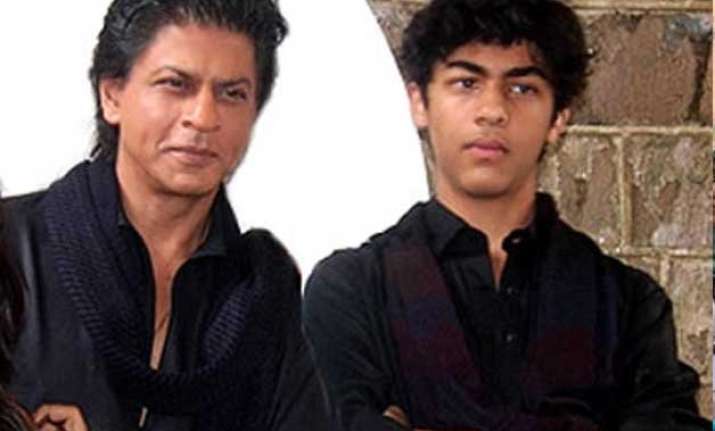 Mumbai: Shah Rukh's elder son Aryan may soon follow in his father's footsteps to Bollywood and the film that is going to be a launch pad for him is the Hindi remake of 'Boyhood'.
According to some media reports, Shah Rukh is in talks with Boyhood's makers to acquire the rights of the film's remake in India. Richard Linklater's film Boyhood failed to win Best Picture at Oscars but it received a huge critical acclaim and many trophies at other Awards.
Reports suggest that it was 17-year-old Aryan who recommended the film to King Khan. SRK was so impressed with the film that he decided to produce it and asked his son whether he would be keen to play the role that has been played by actor Ellar Coltrane in the original.
Boyhood was shot over 12 years of period capturing the life of Ellar Coltrane (as Mason Evans Jr.) from the age of 6 to 18 years of age. However, Bollywood remake will only film the teenage part of the boy's life.
According to the reports, there will be some shots of his childhood, for which Khan is keen on having youngest son AbRam playing the junior version of his elder brother.
Shah Rukh is yet to decide the director but he will take the decision after the makers of 'Boyhood' give the final nod. As per the reports, Shah Rukh is in talks with Manish Sharma, who is directing his another production 'Fan'. Another name being considered is of Rahul Dholakia who will work with him in 'Raees'.
Boyhood director Linklater has already made a trip to Mumbai to speak to Khan. Shah Rukh would want Linklater's inputs in the film. The director of the films like 'Before Sunrise', 'Before Sunset' and 'Before Sunrise', Richard Linklater has a huge appreciation for Bollywood and especially Shah Rukh Khan.
If the film gets to be made, there is a huge possibility that SRK will play Ethan Hawke's character in the film.
It would be interesting to see who would be playing Patricia Arquette's role in the remake. Arquette won Best Supporting Actress award for his single mother role in the film.