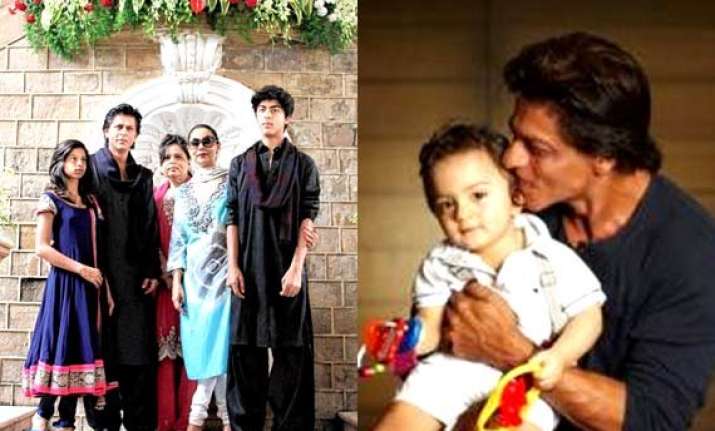 New Delhi: World knows the fact that Shah Rukh Khan is a family man and time to time  he has taken to social networking sites to show his affection towards his family members.
This time he tweeted a picture of his third child AbRam. SRK has always kept AbRam under wraps but as the days are passing by the actor himself is getting public about his son.
In the picture, Shah Rukh has AbRam in his lap and while doting daddy gives his third-born a cuddle, AbRam stares solemnly into the camera.
"Eid Al Adha Mubarak to everyone. May all have the happiness that life has to offer. The littlest one wishes you too," read actor Shah Rukh Khan's tweet.
To make the tweet even more memorable and a lot more adorable, he added a personal photo of his son AbRam. We can say that his cute little third child is quite a resemblance of the father.
This is not the first time he tweeted about his new family member. Before this he showed his 'dimple' happiness on Twitter and wrote "Spent the (w)hole day in the company of Craters today. 5 of them.Between Suhana me & AbRam all one can see is dimples on (w)holesale!!! (sic)," after he returned home as the Dubai leg of IPL got over.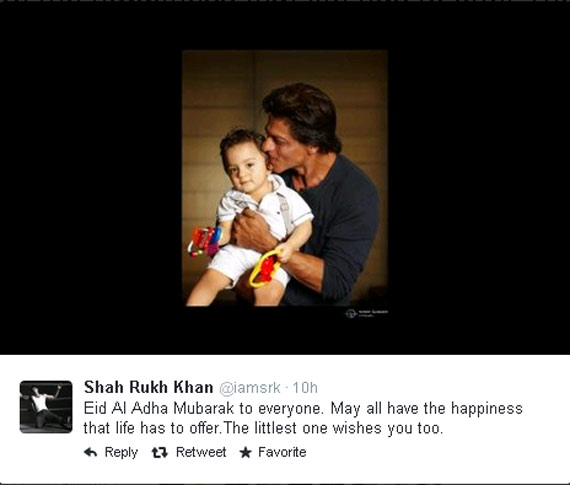 Born last year on May 27, 2013 through surrogacy, AbRam was tried to capture by paparazzi at various occasions but they apparently failed. As promised, Shah Rukh himself posted the picture of his third child on Eid and kept his words. Indeed a happiest Eidi for all SRK fans!
Shah Rukh Khan loves spending time with his children. He always speaks about his children and posted the quality time he spends with his Aryan and Suhana on lens very often on social networking sites and also shared his feelings.
AbRam was born premature in the month of May last year through surrogacy. However, now he is very much healthy and good looking baby as picture revealed depicts so. Shah Rukh and Gauri Khan are also parents to Aryan, 17, and Suhana, 14.
Apart from being a superstar, no doubt Shah Rukh is a doting father!