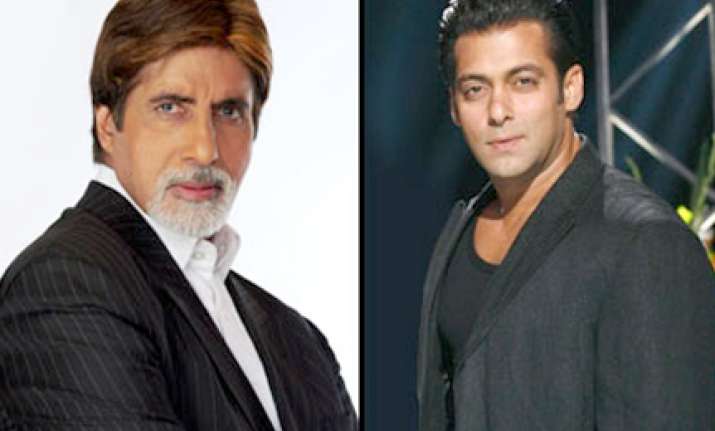 Mumbai: Bollywood's original bad boy Salman Khan has stepped into the shoes of megastar Amitabh Bachchan as the host of the controversial reality show 'Bigg Boss' and says that he is going to give the contestants a tough time.
Unlike Big B's "pop philosophy", Salman said that his approach will be more straight forward and he will be, "Doston ka dost, dushmanon ka dushman." (Friend for friends, enemy to enemies)
The grapevine was abuzz with reports that arch rival
Shah Rukh Khan
and Akshay Kumar were in talks to take over from Bachchan, but it was Salman who was announced as the host for the fourth season of the show, here today. And Salman promises a style that will be very different from the show's previous hosts, including, Arshad Warsi, Shilpa Shetty and Bachchan.
"Big B and Shilpa did a good job. My style will be very different from Mr Bachchan's. We are two different personalities. Though I have always respected Big B, he is the biggest star of the country and I am just a kid," said the 45-year-old addressing a press conference. Meanwhile Bachchan has taken over the reins of 'Kaun Banega Crorepati 4' from previous season's host Shah Rukh and the show will go on air soon.  
Interestingly Salman was hosting the popular game show 'Dus Ka Dum' on Sony, which was postponed to accommodate 'Kaun Banega Crorepati' by the channel but the actor says that he ended the contract, but did not elaborate on the reason. "Me and Mr Bachchan have swapped places...The contract with Sony is over. But if they want me to do it again, I will because I really liked the connect," said Salman.
'Bigg Boss' is the Indian version of the popular British reality show 'Big Brother'. It has celebrity contestants locked in a house under the surveillance of multiple cameras for a period of three months without any contact with the outside world. PTI