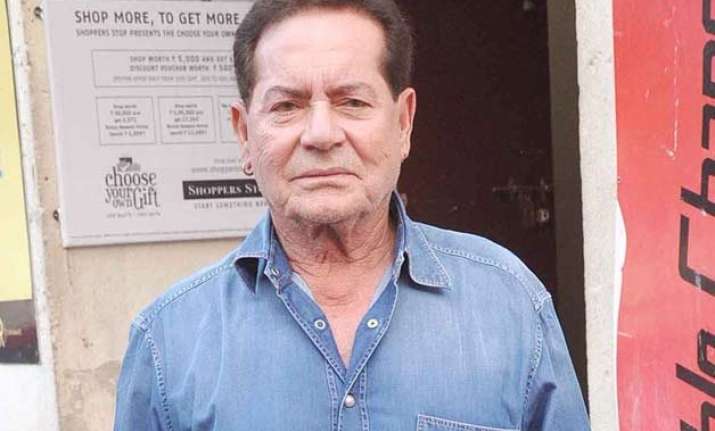 New Delhi: Salim Khan, who turned down Padma Shri Award bestowed upon him by Indian Govt, finally opens up about the issue. The iconic scriptwriter and father of  superstar Salman Khan says that he deserves more than a Padma Shri after serving the Indian Cinema for 55 years.
The writer of films like Andaz, Seeta Aur Geeta, Zanjeer, Deewar, Trishul, Don, Kranti and Mr India and Kabzaa is among the 75 recipients of Padma Shri, fourth highest civilian award in India. His partner of 16 years and 24 films, Javed Akhtar, has received both Padma Shri and Padma Bhushan.
Speaking to a leading daily, Salim Khan said, "I deserve more than a Padma Shri for my contributions to Hindi cinema, given that my juniors have already got it years before. Even my earstwhile partner, Javed Akhtar, has received both a Padma Shri and a Padma Bhushan."
Considered close to the Indian Prime Minister Narendra Modi, Salim Khan refuses that the award has anything to do with their relationship. He said that the people choosing the recipients should've discussed more about what he deserves after his services to Indian Cinema. One of the most successful screenwriter of Bollywood, Salim has written over 40 films in his career, many of them blockbusters.
It pains Salim that he and Javed shared six Filmfare Awards but when Javed got Padma Shri and Padma Bhushan no one remembered him.
It is also noteworthy that this year Prasoon Joshi and Sanjay Leela Bhansali have also been conferred with Padma Shri and they are much junior to Salim Khan.
Salim is credited to contribute a lot to the making of Amitabh Bachchan as angry young man in seventies, who has been awarded Padma Vibhushan, second highest civilian honour after Bharat Ratna. Dilip Kumar has also been honoured with Padma Vibhushan.