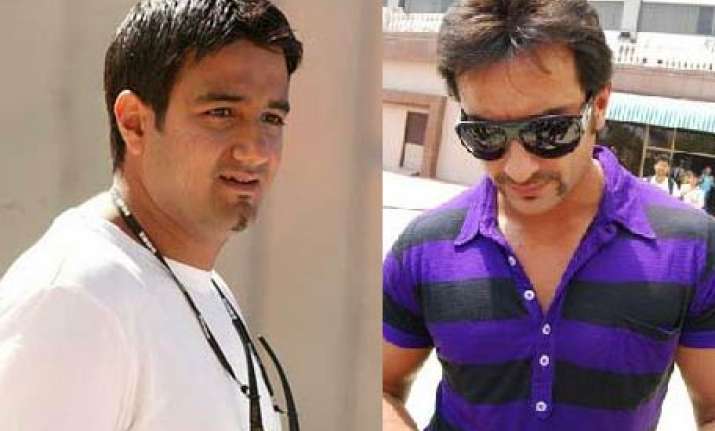 Despite the Anjaana Anjaani debacle at the box-office, the Sajid Nadiadwala-Siddharth Anand duo was planning Two States starring Saif and Piggy Chops, but Saif Ali Khan has backed out of the film, says a Mumbai Mirror report.  
The film was to be an adaptation of Chetan Bhagat's popular book 2 States. What's more, the duo even managed a coup of sorts by getting Saif Ali Khan and
Priyanka Chopra
on board for the lead roles. The latest is that the film is in a bad state, unlikely to ever go on the floors.
Last week Nadiadwala had second thoughts on backing the film. On Sunday evening Saif told Anand that he wouldn't like to do this film. Nadiadwala, Anand and Saif had a very long and serious meeting on the film yesterday at Saif's house.
Saif having second thoughts on the film comes a surprise because Saif himself had motivated Anand to make a film on Bhagat's novel. When contacted Nadiadwala put up a brave front, saying, "Yes, Anand, Saif and I met up today afternoon. But we have sorted it out and I am back to producing it."
Anand was however frank and forthcoming. He said, "Right now, everything is up in the air. We are trying to figure it out. It was never concrete even earlier."
When probed on Saif's second thoughts, Anand said, "Kisika pucca nahin hai. We may drop the idea altogether. Agar screenplay crack hota hai, only then. I will see how excited I am at that point of time and then take a call. After that, Saif shall decide."
MIrror then asked Anand if Saif had developed cold feet on working with him because of Anjaana Anjaani, Anand quipped, "Aisa nahin hai."
Elaborating on what drove the project into a limbo, Anand said, "We need to adapt the book absolutely correctly. It's not an easy job. It's very tough to translate Two States into a screenplay of a film."
Not so long ago, Chetan Bhagat had said, "It's still too early and Siddharth is yet to decide on who would be writing the screenplay of the film on Two States. But I am available to them if they require my assistance on that front too."