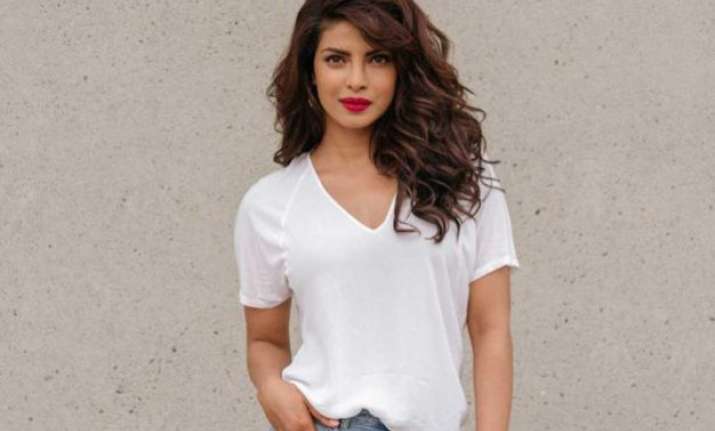 New Delhi: Actress Priyanka Chopra is going places sooner than anyone can keep track of. She has become an expert in juggling projects between Bollywood and Hollywood. She startled everyone with her jaw dropping looks at the prestigious Academy awards.
While all of her admirers are still perplexed over her beauty, something weird happened too. Hollywood actress Ruby Rose took to Twitter to say that she thought Priyanka's 'Quantico' promo was a Pantene advertisement.
Interestedly Ruby Rose, is actress Deepika Padukone's co-star in 'xXx: The return of Xander Cage'. Her statement about Priyanka was seen as a dig at the latter by gossipmongers.
It was obvious that sooner or later Priyanka would reply on it. And what a comeback it was.
In her tweet she thanked Ruby and also said that Indian girls are born with beautiful hair. She also said that Deepika will agree to this.
Here's what she tweeted and Ruby's reply to it.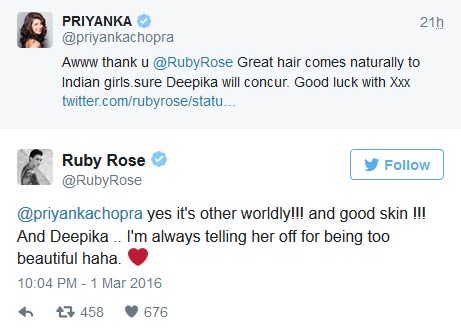 Learn from Priyanka on how to turn a comment into compliment.
Two of Bollywood leading ladies, Priyanka and Deepika are making a mark in Hollywood. While Priyanka has already established a strong foothold with 'Quantico' which is now followed by Baywatch; Deepika is yet to make her debut. Her first Hollywood flick xXx, is making all the right noises.
We are sure the Indian fans of these two beauties couldn't be more proud.