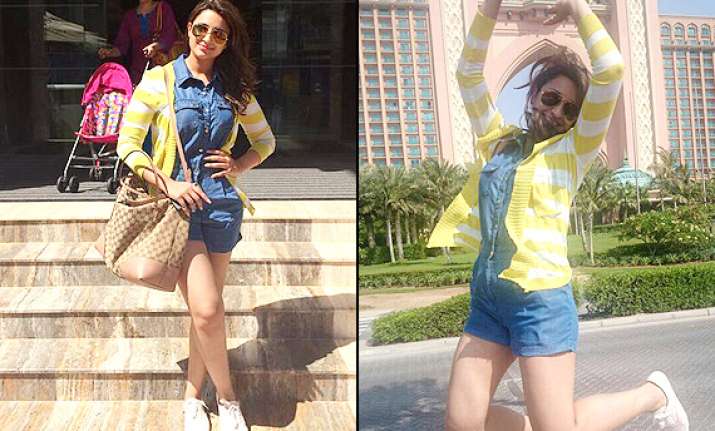 New Delhi: Parinteeti Chopra, the hot and bubbly actress of Bollywood is chilling in Abu Dhabi these days with her friends and is making most of those moments.
As the temperature is soaring with every day passing by, Parineeti is busy rejoicing these hot days by flaunting her newly formed hour glass frame.
The actress who is gearing up for her upcoming two flicks, 'Kill Dil' and 'Daawat e Ishq', can be seen spilling colours with her radiant persona in few pictures that she tweeted recently.
The 'Hasee Toh Phasee' star was seen with her family a few days back in support of Priyanka and her family at the event of road naming on the name of Priyanka's father.
Now, since she is out and doing full fun and frolic in Abu Dhabi, Parineeti's eclectic charm is completely on display.
For the very first picture that she posted today, she wrote: "Showing off my new Gucci bag!!"
Then, later she tweeted yet another picture of her raving outing with friends and wrote: "The loves of my life :)"
Parineeti kept her fans on their toes when she posted another picture in which she attempted to fly and wrote: "My favorite photo!!"
After changing into a lace black short dress, she made sure to look every inch perfect as she posted two pictures.
We wish her best for her future ventures!