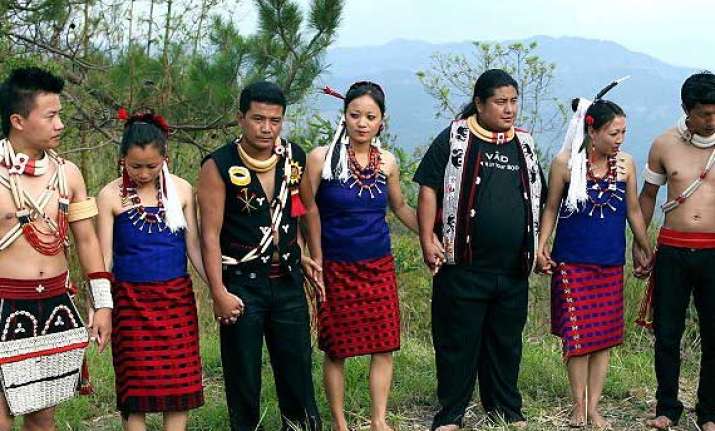 New Delhi,A feature-length documentary film on contemporary Naga folk music has been selected to be screened at five international film festivals.
'Songs of the Blue Hills' features a number of veteran Naga folk music exponents as well as younger practitioners.
Directed by National Award-winning film critic and filmmaker Utpal Borpujari, the 96-minute film has been invited to the Doc Outlook International Market of the Visions du Reel Film Festival (Switzerland), Gothenburg Independent Film Festival (Sweden), New York Indian Film Festival (NYIFF), Eyes & Lenses Ethnographic Film Festival (Warsaw, Poland) and the World Music & Independent Film Festival (Washington).
Produced by Girish Joshi for the Centre for Cultural Resources and Training (CCRT), Union Ministry of Culture, the film is in the competition sections of the festivals at Gothenburg and Washington.
The film features some fascinating music as well as dialogue with musicians like veteran Ao folk singers Sademmeren Longkumer and A Bendangyanger Tsuwar Jamir, Chakhesang folk veteran Zachunu Keyho, classical pianist Nise Meruno, and groups like the Tetseo Sisters, the Nagaland Singing Ambassadors, the Chancel Choir, Ru'a, Usou's Instrumental, Abiogenesis, Nagagenous, Baptist Youth Choir Poilwa Village and Purple Fusion.
In addition, experts such as A Lanunugsang, Lipokmar Tzudir, Gugs Chishi, Theja Meru, Vivee Peseye, Som Kamei, Zubeno Mozhui and Abraham Lotha share their views on the changing  face of Naga music in recent times in the film.