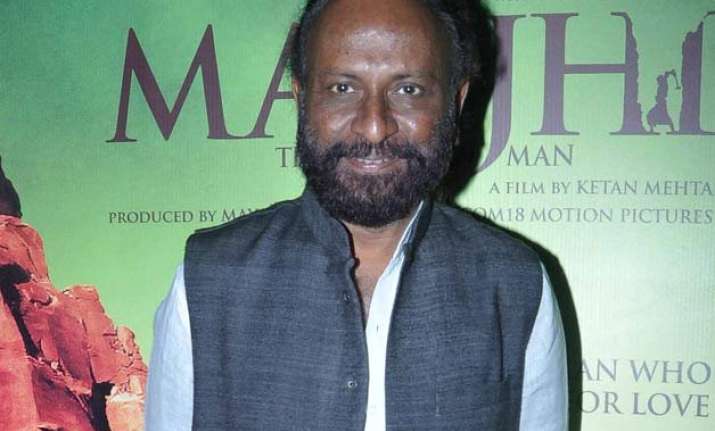 Ketan Mehta is making news for all the right reasons. His movie 'Manjhi: The Mountain Man' is hitting theatres on 21st August.
In his 40 years in the industry, Mehta has directed four biopics. So, what is it about untold stories which attract Ketan Mehta? He takes an unsung hero, a forgotten sacrifice, a controversial topic or a common man, and creates a movie that transfixes the audiences.
On Manjhi's release day, here is a list of all the biopics directed by the maverick Ketan Mehta:
Sardar (1993)
Based on the life of one of India's greatest freedom fighters, Sardar Vallabhai Patel, this movie had Paresh Rawal as the protagonist. This gripping movie framed Sardar's life just as it was, larger than life. It beautifully explained the turmoil within the Iron Man of India, his differences with first Prime Minister Jawaharlal Nehru on the Kashmir issue and his guilt for not being able to save the father of the nation, Mahatma Gandhi. Ketan Mehta's first biopic was fast paced and in his own words an attempt to correct "the appropriation of history in the name of Nehru and Gandhi." This movie won the National Award for the Best Feature Film on National Integration in the year 1994.
Mangal Pandey (2005)
We tend to forget heroes till someone narrates their stories. Ketan Mehta did the same with Mangal Pandey-The Rising. Starring Aamir Khan in the lead, Mangal Pandey was the story of India's first War of Independence. Apparently, recreating history is difficult and so is keeping the audience glued to the screen for three hours. But Ketan Mehta's execution proved how he could do a brilliant job with difficult things. He crafted a solid, historical biopic which carefully explained what led to the 'Sepoy Mutiny' leaving viewers enthralled.
Rang Rasiya (2008, London Film Festival; 2014 India)
An adaptation of Ranjit Desai's biographical novel Raja Ravi Verma, this movie starred Randeep Hooda and Nandana Sen in lead roles. Though this biopic was set in the 19th century, it made sense in the modern world too. Rang Rasiya dealt with artistic censorship, a feature which is so strong in Indian cinema that directors like Mehta had to wait for six years till the movie saw a release. With Rang Rasiya, Ketan Mehta addressed issues like artistic freedom, art, religion and relationships. While many directors would have played safe and not chosen a topic like this, Mehta told a story which was definitely worth telling.
Manjhi: The Mountain Man (2015)
Manjhi: The Mountain Man is not like any other biopic Mehta directed. His biopics are known to have a political shade to it that garners controversy but not this one. Dasrath Manjhi was a common man who took it upon him to break a mountain with a chisel and hammer. It took him 22 long years to complete it. Nawazuddin Siddiqui as Manjhi is seen at his best. On why he took Manjhi's story to make a movie, Ketan Mehta says he found that the story had a never say die spirit. To add authenticity to the movie, Ketan Mehta shot the movie in Gaya, Manjhi's hometown.
Ketan Mehta brings to the silver screen stories which require the attention of the masses. He understands that the true meaning of art is not only to entertain but educate too. We hope to see more brilliant movies from this amazingly talented director.