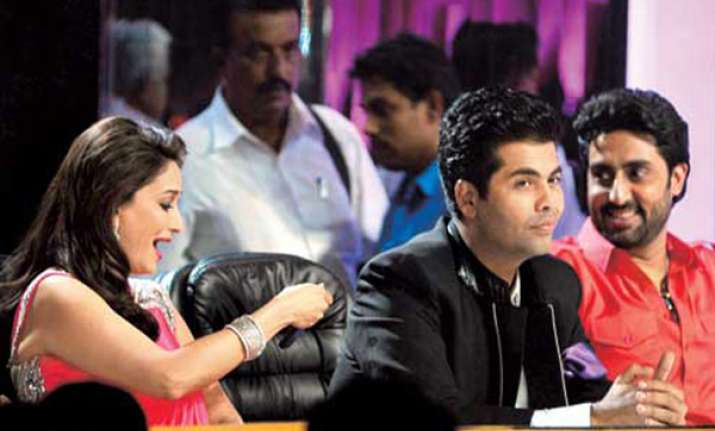 Mumbai: While the whole of India is anxious to catch a glimpse of the latest entrant of the Bachchan family, Aishwarya and Abhishek's daughter Aaradhya, Madhuri Dixit got lucky .
Actor
Abhishek Bachchan
recently appeared with Ajay Devgan on Colors TV show 'Jhalak Dhikla Jaa' season 5 for the promotion of their movie "Bol Bachchan." He showed his little angle's photo to Madhuri on his mobile phone during the show.
After looking at the photo Madhuri let out a loud cry of "wow" which means that the daughter is as beautiful as her mother.
Although her photo has been kept secretive, her facial features have been revealed. Apparently, Aaradhya is tall, has light brown eyes, dark hair and long beautiful eyelashes. She doesn't have her mother's signature green eyes.
Recently Aaradhya's grandmother Jaya Bachchan disclosed that the little angel' looks are a mixture of Abhi-Aish and she has nick named her "Strawberry".  
Considering this we all can just portray the little beauty in our imagination as baby's snap is still unexposed.
It is common knowledge that the Bachchan's have always kept their family affairs private. However, with people from all across India wanting to see the darling toddler, it sure would be nice if they let out a few snaps of Aaradhya, for us to see too!