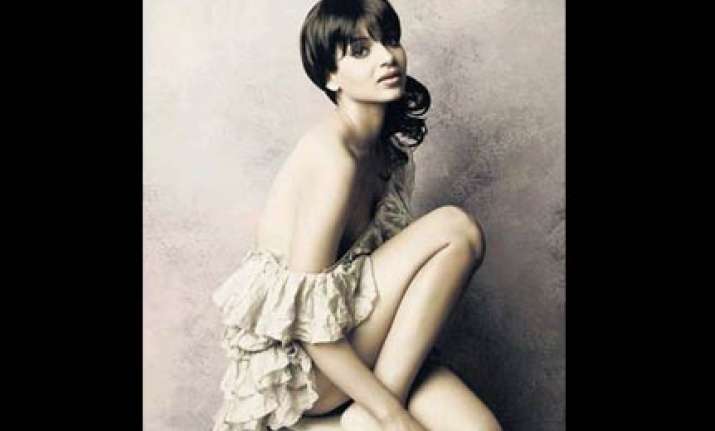 Bollywood starlet Kangna Ranaut has always been the butt of jokes for her pahadi accent. The girl 'from the hills' has been made fun of, and criticised for her English by her colleagues. The media didn't spare her either and poked fun for abusing a character in Fashion by repeatedly called him "busterd", says a media report.
The actress made note of all the jokes and snide remarks, but never reacted. Now it comes to light that for the last three months, she has been taking English pronunciation classes.
 Kangna, whose next film Once Upon A Time In Mumbai with Ajay Devgn, releases next month, says it was her own decision to correct her English pronunciation and that it had nothing to do with people poking fun at her. 
She admits she is aware that her pronunciation has been wrong on several occasions, "I am a girl from a small town in Himachal Pradesh. When I came to Mumbai I knew how to speak English but I didn't pronounce the words properly. I decided to change that. I learnt English by reading books. My way of learning a language is by learning grammar first, and then improving my vocabulary. I am a self-taught person. I decided to learn English and pronounce words properly because I found it difficult expressing myself sometimes to my directors."
 The actress doesn't have time to attend English-speaking schools, so she has an English tutor Nawaz, who comes to the sets to coach her.
She says, "I have been working on my pronunciation. If I don't learn, I will be a dumb person. But Nawaz is still not happy with my progress. Whenever we meet, she records my voice and makes me hear it. She has taught me how to roll my R's properly like a Britisher. You can say I am acting in a real-life version of My Fair Lady! Today Bollywood is big in USA and I want to talk confidently when I am there. I want to communicate and reach out to them. Language is the only way."
 Kangna is also learning French as she plans to take a holiday in France next year.
 "I was at a total loss when I visited Italy last year. A couple of times I landed up at the wrong places because I didn't speak or understand Italian. I was to go to the Coliseum but ended up somewhere completely different! Another time I was to go to Venice and went to some place called Venezia. I was so scared and almost in tears. That's when I decided that I had to learn the language of the country I visit. I am learning French today as I plan to visit it some time this year."