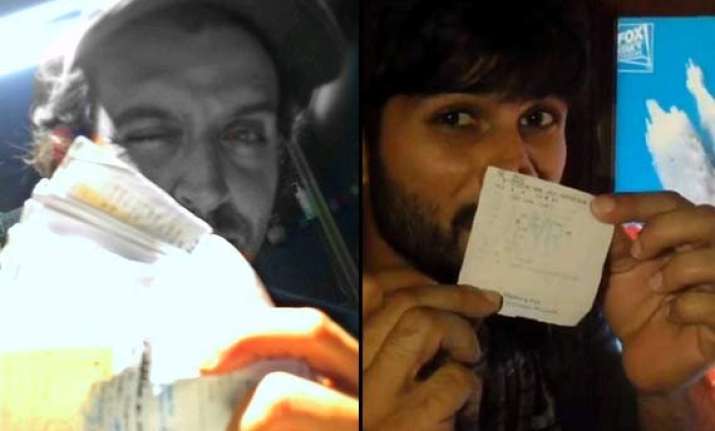 New Delhi: Finally Hrithik Roshan has come with a challenge as a part of his #BangBangDare for Shahid Kapoor. The Greek God of Bollywood after keeping Shahid along with us much in anticipation and curiosity has given a task to the actor but an effortless one.
The Haider star after getting fascinated by Ranveer Singh's blatant yet humorous act of performing dare given by Hrithik asked him to also throw a challenge on him.
"Haider @iHrithik after seeing @RanveerOfficial video just have to say .. Why no bangbangdare for me .."
For days, Hrithik continued to rope in different stars like Shah Rukh, Priyanka, Aamir and others with exciting challenges except Shahid. The speculations got rife that Hrithik is least interested in nominating Kapoor in his act of #BangBangDare since both the stars' movies are releasing on the same date.
However, now Jr Roshan has finally replied to Shahid's request and gave him along with himself a challenge, which was enough to end all such speculations.
Hrithik asked Shahid to watch his 'Bang Bang', while he would go for Vishal Bhardwaj's 'Haider'.
Hrithik wrote on the social media platform, "When d power of love wins over love of power! My #bangbangdare 2 @shahidkapoor n myself is...you will watch bb n I will watch haider 1st day."
Clever move we would say. So, this was the challenge, which Duggu waited to give Shahid since it wouldn't have been accomplished unless and until the movies get released.
Shahid took up the challenge happily and replied quoting, "@iHrithik ye to asaan hai mere bhai was gonna see it tomorrow anyway ... Wishing you huge success."
After watching the action-comedy, Shahid uploaded a video in Instagram and replied, "@iHrithik here is the bangbangdare completed. 5 4 3 2 1 #haidare .. Your turn.."

Shahid co-star Shraddha Kapoor too was all drooled over Hrithik after watching his Katrina Kaif starrer release 'Bang Bang'.
"Just got out of #BangBang & OMG @iHrithik you have BLASTED it & HOW!very very very proud!#ProudFangirl Here's hoping this is your biggest!", she wrote on Twitter.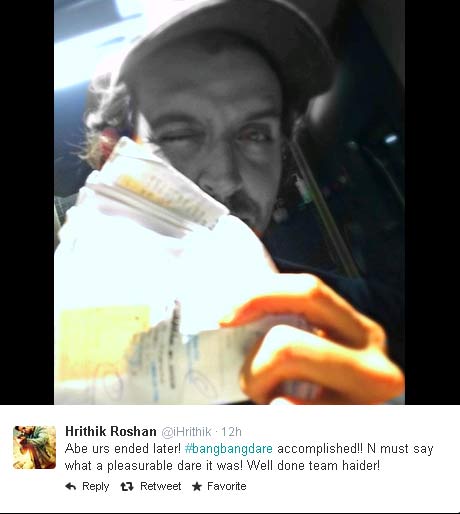 Moments later Hrithik too completed the self-assigned task and shared a snap tweeting, "Abe urs ended later! #bangbangdare accomplished!! N must say what a pleasurable dare it was! Well done team haider!"