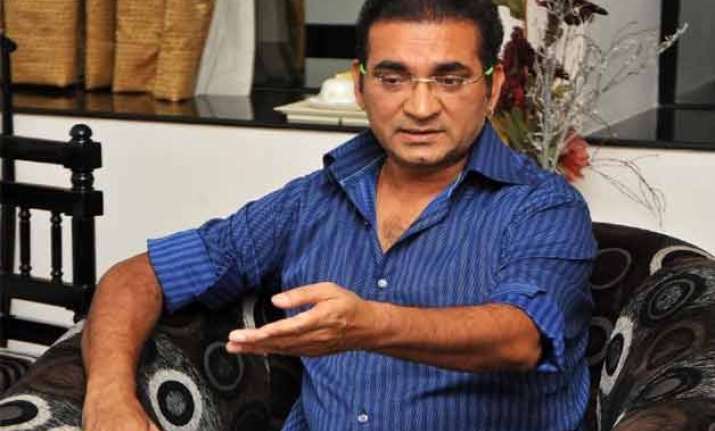 Mumbai: Singer Abhijeet Bhattacharya is back in news once again. A 34-year-old woman has lodged an FIR against him at the Oshiwara Police station in Mumbai on Thursday night for allegedly molesting her.
The alleged incident occurred at Lokhandwala Durga Pandal of which Abhijeet is one of the organisers. The victim in her complaint to the police alleged that it's while standing in the pandal she felt Abhijeet's hands touching her inappropriately.
The women in her complain also stated that on objecting to Abhjieet's alleged misbehaviour, the singer lashed out at her publicly and asked the women volunteers to take her to the Pandal office where she was allegedly threatened by the singer again before he asked the volunteers to throw her out.
Based on the complaint, the police has registered an FIR against Abhijeet under Section 354 A (Molestation) 506 & 34 of the IPC.
We have started an investigation into the case," the police officer said
Khanvilkar, however, said there is no need to summon to the singer immediately before the police complete the preliminary investigation.
When contacted, Abhijeet in a text message said filing of the complaint against him was "handiwork of anti-Hindu forces" which he was well aware of.
"It's crowd management. Police and security do their job. Gate crash and nuisance is the main factor," he said.
"Everyone is so happy with us because we entertain every one in our Puja. But the main point is we were aware of anti Hindu forces/ terrorist threats and sabotage of this Hindu Durga Puja and that is working well for them," the singer said.
Later, he addressed the media and said that the allegations were false and baseless and asserted that he did not even know the woman.
"Look at what happened in Abhishek Bachchan's wedding, a girl barged in and falsely accused him. How could I have molested a woman when I was not even near her? I don't even know if such a woman exists," Abhijeet told the reporters.
Earlier, Abhijeet had courted controversy in May this year when, in a series of tweets, he said that roads are meant for cars and dogs and not for people to sleep on, while coming out in support of superstar Salman Khan after the latter's conviction in the 2002 hit-and-run case.
 Feigning ignorance on the issue, Abhijeet said , "No idea !! It's crowd management. Police and security do their job. Gate crash and nuisance is the main factor. We are also aware of anti-Hindu forces/ terrorist threats and sabotage of this Hindu Durga Puja. And that is working well for them."