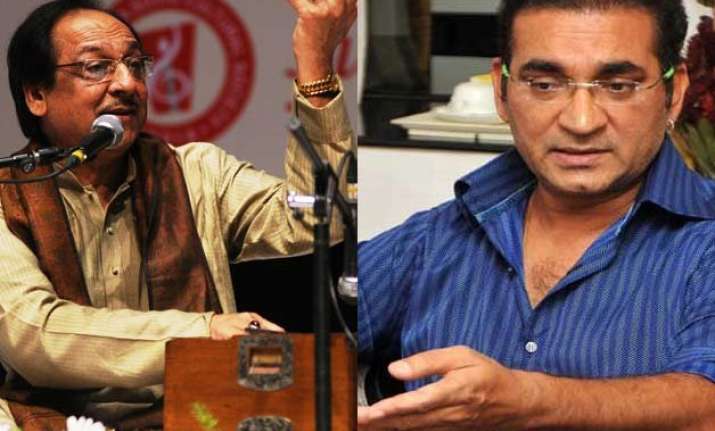 New Delhi: Singer Abhijeet has courted another controversy, this time related to the legendary ghazal singer Ghulam Ali. He called the Pakistani ghazal singer a 'dengue artist' from a 'terrorist country' in a post on Twitter. With such extremist comments, Abhijeet has sent shock waves across the entire nation.
As a tribute to ghazal maestro Jagjit Singh, Ghulam Ali was scheduled to perform at the Shanmukhananda Hall in Mumbai. But unfortunately, the show was cancelled by Shiv Sena who termed its act as 'national duty'.
The incidence caused great pain to Ghulam Ali who said that he is deeply hurt and saddened by this act.
However, the legendary singer was later invited to Delhi and Kolkata by their respective Chief Ministers for a performance.
While B-town bigwigs namely director producer Mahesh Bhatt and actress Shabana Azmi highly condemned this act, singer Abhijeet had a totally different approach over the incidence.
Here is what he tweeted: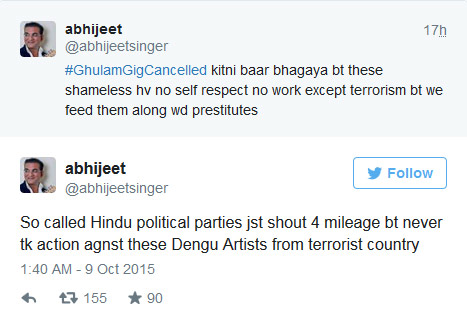 The singer did not stop at this. He posted a series of tweets where he also accused the political parties of not doing substantial. In one of his tweets he also said that Ghulam Ali was thrown out of India many times but he always returned shamelessly. He also called Mahesh Bhatt an anti-national.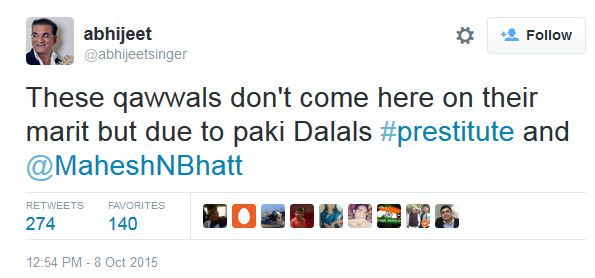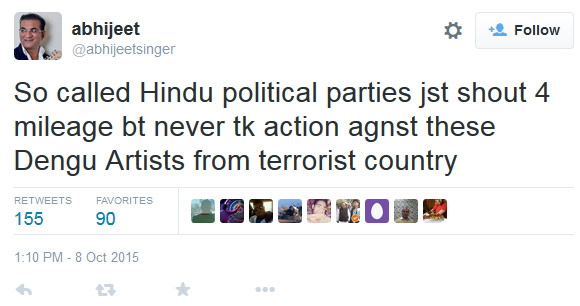 This is not the first time Abhijeet has come in news for his controversial tweets. When actor Salman Khan was sentenced to 5 years jail term in the infamous hit and run case, the singer had posted a controversial tweeted which roughly meant that if dogs will sleep on footpath, they will die only.
Though, his inhumane statement was hugely criticised, we wonder what is in store for him now after these tweets.